Are you tired of spending countless hours on mundane and repetitive tasks that drain your time and energy? Say hello to Bardeen AI, the ultimate automation tool that will free you up to focus on more exciting and fulfilling work. With its intuitive interface and powerful features, Bardeen AI has garnered recognition and a dedicated user base, making it a must-have productivity companion. Let's dive into the world of Bardeen AI and discover how it can transform your work life.
What is Bardeen?
Bardeen.ai is an innovative automation tool designed to help individuals streamline their work processes and increase productivity. Its primary goal is to automate repetitive and time-consuming tasks, freeing up valuable time and energy for more creative and fulfilling work. With Bardeen.ai, the average user saves over 10 hours per week!
Recognized as the #1 product of the month and #2 product of the year on Product Hunt, Bardeen.ai has gained popularity and is trusted by over 150,000 users. As one of the leading AI automation extensions and website data scrapers, Bardeen.ai provides a comprehensive solution for automating tasks and extracting valuable information from various platforms.
What Is It Used For?
With Bardeen, you can revolutionize your web experience and automate numerous tasks, saving you valuable time and effort. Let me walk you through some of the exciting features and possibilities:
Streamline Email Automation: Leverage the power of AI to compose and send emails effortlessly within popular email platforms like Gmail or Hotmail.
LinkedIn Profile Scraping: Extract valuable data from LinkedIn profiles and conveniently save it to your preferred application.
Efficient Job Post and Prospect Scraping: Gather relevant information from platforms like LinkedIn, Monsters.com, Glassdoor, and Seek, enabling you to stay up-to-date on job opportunities and potential prospects.
Real Estate Data Extraction: Seamlessly scrape listing and agent data from reputable sources like Zillow and Redfin, empowering you with comprehensive insights for your real estate endeavors.
E-commerce Data Acquisition: Dive into the vast world of e-commerce by scraping valuable data from Amazon and eBay, providing you with a competitive edge and valuable market insights.
Meeting Reminders and Automation: Take advantage of Bardeen's capabilities to send timely meeting reminders and automatically launch upcoming meetings, seamlessly integrating with platforms like Zoom, Google Meets, and WebEx.
Remove Paywalls: Say goodbye to pesky paywalls hindering your access to valuable content with Bardeen's ability to remove them efficiently.
Custom Web Scraping: Salespeople on the hunt for leads can rely on Bardeen to build custom web scrapers for any website, providing a tailored solution for lead generation.
Task Creation in Popular Productivity Apps: Simplify your workflow by effortlessly creating tasks in popular apps such as Jira, Trello, Notion, Asana, and ClickUp.
Recurring Task Management: Bardeen offers the flexibility to create and manage recurring tasks efficiently across popular task management platforms like Notion, Asana, and ClickUp.
Automated Email Communication: Leverage the power of the Chat GPT algorithm provided by OpenAI to create and send automated emails, streamlining your communication process.
How To Use Bardeen AI? Beginner's Guide
Let me show you a real-world application of Bardeen and how it can scrape data from the web and add information to the corresponding rows in Google Sheets. You can apply the following guide to copy Linkedin, Facebook, Instagram Profiles, etc to the spreadsheet and use it for outreach purposes.
To copy LinkedIn profile data to Google Sheets using Bardeen, follow the steps below:
Download and install the Bardeen Chrome extension and pin it to your browser.
Open LinkedIn in a separate browser tab or window.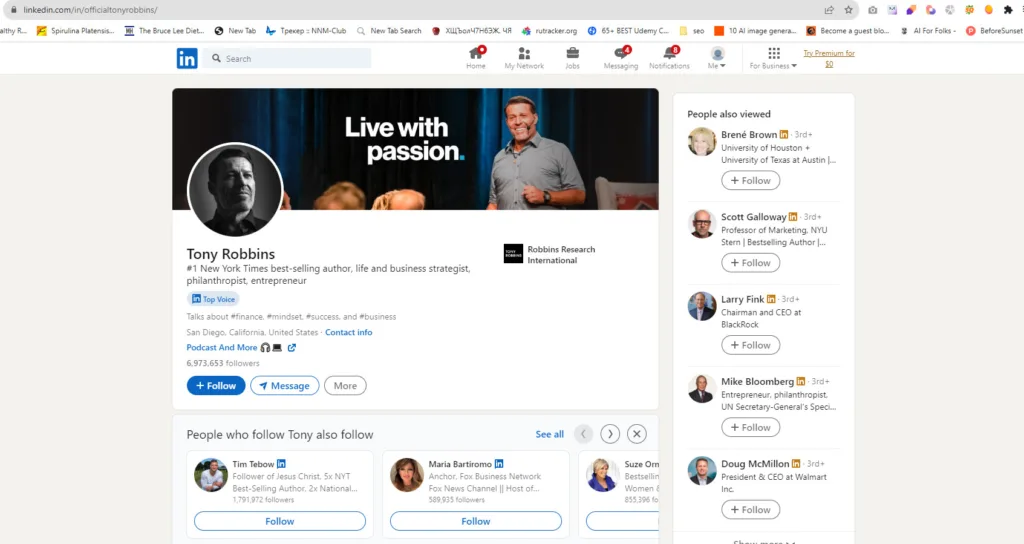 Right-click on the Bardeen extension icon and select "Launch Bardeen" to access the Bardeen platform.
In the Playbooks catalog, search for "Copy LinkedIn Profile Data to Google Sheets" (this playbook automates the multi-step process).
Right-click on the playbook and choose the option to copy LinkedIn profile data to Google Sheets.
If you haven't set up the integration with Google Sheets yet, Bardeen will prompt you to provide your Gmail account details for authentication, making future use automatic.
Once the playbook is selected, you will need to specify the destination for the data. You can either create a new Google Sheet (provide a name for the spreadsheet) or choose an existing one (search for the desired sheet).
Save the input to avoid being asked for the Google Sheets name every time.
Click "Run" to execute the playbook. Within seconds, all the LinkedIn profile details will be copied and saved into the specified Google Sheet.
You can access and view the data in the Google Sheets, keeping track of the LinkedIn users you have reached out to and monitoring their responses.
Please note that you can also use the shortcut Option + B (⌥ + B) to quickly launch Bardeen and access the playbook catalog.
Bardeen also offers Autobooks, which are triggered automation. You can turn any Playbook into an Autobook by adding a trigger at the beginning. There are two types of triggers available in Bardeen: scheduled triggers and triggers based on specific events happening in your web apps. Scheduled triggers allow you to execute automation based on a predefined schedule, while event triggers facilitate communication between your apps without manual intervention.
Bardeen VS Zapier
One significant advantage of Bardeen over Zapier is its seamless integration as a browser extension. Unlike Zapier, which requires users to switch between windows or tabs, Bardeen operates within the user's browser. This eliminates the hassle of context switching and provides a smoother workflow experience.
One of Bardeen's standout features is its ability to read the tabs open in the browser and build context-aware automation. With a simple click, Bardeen scans the open pages and extracts relevant information, which can be used in email drafts, Slack messages, Jira notifications, and more. This saves valuable time and eliminates the need for repetitive manual data extraction across multiple platforms. No more context switching or Saas sprawl.
While Zapier and other automation solutions are trigger-based, Bardeen goes beyond that. It takes into consideration the user's current context and leverages real-time decision-making. This allows for more intelligent and dynamic automation workflows tailored to the user's specific needs.
Bardeen serves as an orchestration platform that seamlessly integrates numerous applications into a single workflow. With support for over fifty apps and the addition of approximately one app per week, Bardeen offers a wide range of possibilities for users. From OpenAI's GPT-4 to ClickUp, HubSpot, Notion, Google Sheets, and more, Bardeen caters to diverse user requirements.
Privacy and cost-effectiveness are prioritized in Bardeen's infrastructure. Automations run locally on the user's device, preserving data privacy and reducing reliance on external servers. Additionally, Bardeen is continuously learning and improving its functionality through embedded AI technology. User edits to automation outputs are reviewed, resulting in real-time enhancements and optimal performance.
While others in the market are investing in expensive and time-consuming training of generative models for automation, Bardeen takes a different approach. It utilizes generative AI to build and suggest automation templates to users. The intuitive no-code builder allows users to easily customize these templates to suit their requirements. With a simple click, the automation is triggered, providing a reliable and efficient solution for repetitive tasks.
F.A.Q.s Bardeen
What are Playbooks in Bardeen.ai?
Playbooks are pre-built workflows or templates that automate specific tasks. Bardeen.ai provides a vast library of pre-built playbooks for various purposes, including lead generation, report generation, social media management, and more. Users can also create their custom playbooks using the drag-and-drop interface and share them with others in their organization.
What is the MagicBox feature in Bardeen.ai?
The MagicBox is an AI-enabled search box in Bardeen.ai where users can describe the automation they need. The interface returns a custom workflow that users can modify by selecting pre-built actions from a list. The MagicBox uses generative AI, setting it apart from competitors and enabling users to quickly find and customize the automation they require.
What are some Bardeen Alternatives?
There are several automation tools available in the market that can serve as alternatives to Bardeen. Here are a few popular alternatives worth considering:
Zapier: Zapier is a well-known automation platform that allows users to connect and automate workflows across different web applications. It offers a wide range of integrations and features a user-friendly interface. However, unlike Bardeen, Zapier does not offer the same level of context-awareness and ChatGPT-style AI automation.
Make: Make is another popular automation tool that offers a visual builder for creating complex workflows. It supports a large number of applications and provides advanced automation capabilities. However, similar to Zapier, Make may not offer the same level of AI-driven customization and simplicity as Bardeen.
Microsoft Power Automate: Formerly known as Microsoft Flow, Power Automate is a part of the Microsoft Power Platform. It allows users to create automated workflows across a variety of Microsoft and third-party applications. While Power Automate offers a strong integration with Microsoft tools, it may lack the breadth of app support and AI-driven automation capabilities that Bardeen provides.
Tray.io: Tray.io is an automation platform designed for business users to connect and automate workflows across apps. It offers a visual builder and a wide range of integrations to streamline processes. However, compared to Bardeen, Tray.io may have a steeper learning curve and may require more technical expertise to fully utilize its capabilities.
Bardeen Review
Bardeen.ai is a groundbreaking automation tool that enables users to reclaim their time and energy by automating repetitive and mundane tasks. With an average user saving over 10 hours per week, Bardeen.ai has solidified its position as a leader in the industry. Being named the #1 product of the month and #2 product of the year on Product Hunt, with a user base of over 150,000, is a testament to its popularity and effectiveness.