So you're looking to take your networking game to the next level, are you? Well, my friend, let me introduce you to NFC business cards. In this article, I'll walk you through the 5 best NFC business card options out there so you can get your hands on the latest technology and watch your network grow faster than ever before. If you stick around you will also find out what are the best practices in designing stunning business cards
What Is NFC and How Do NFC Business Cards Work?
So what exactly is NFC and how do NFC business cards work? NFC stands for Near Field Communication. It's a wireless technology that allows for the transfer of information and data between devices that are in close proximity to each other, typically no more than a few inches.
With NFC business cards, the idea is simple. An NFC chip is embedded in the card that contains your contact information. When someone taps their NFC-enabled phone on your card, your info is going to transfer to their device. No more manually entering contacts or taking photos of business cards to save the information. The data on the chip can include details like your name, company, phone number, email, LinkedIn profile, website, and more.
If you do a lot of networking, NFC business cards are a smart investment that will save you time, streamline follow-ups, and help you build better business relationships. The future of networking is here, so why not get on board?
Best 5 NFC Business Cards
When it comes to NFC business cards, you have several great options to choose from. Two of the top contenders are Popl and Linq.
Popl
Linq
V1CE
Mobilo Card
Taptok
Popl offers stylish yet simple NFC cards that allow you to instantly share your contact info and social media profiles. Their cards are high quality and affordable, starting at $4.99. Popl's free mobile app lets you customize your card and track how many times it's been tapped.
Beyond simple contact sharing, Popl offers versatile customization options for personalizing profiles with preferred contact information, social media handles, and professional websites. This adaptability ensures recipients have access to up-to-date and relevant information about the cardholder.
Popl NFC Business Cards go beyond conventional networking tools by integrating with popular social media platforms such as Instagram, LinkedIn, and TikTok. This integration allows recipients to connect with the cardholder across various online platforms with a single tap. With built-in analytics and insights, Popl empowers users to track and measure the effectiveness of their networking efforts. By gaining valuable engagement data, individuals and businesses can refine their networking strategies and make informed decisions. In addition to their technological advancements, Popl NFC Business Cards are environmentally friendly, eliminating the need for paper cards and contributing to sustainable practices.
Popl Pricing
Popl cards: from $4.99

Custom cards: from $29.99

Bands: from $24.99

Popl dots: from $19.99

Badges: from $29.99

Keychains: from $19.99
If you want additional capabilities like video and CRM integrations, you'll need to subscribe to the Popl Pro Version or create a Team account. There is a free profile and downloadable app with all purchases.
Popl Key Features
Instant Tap-to-Connect

Customizable Digital Profiles

Social Media Integration

User-Friendly Interface

Sleek and Durable Design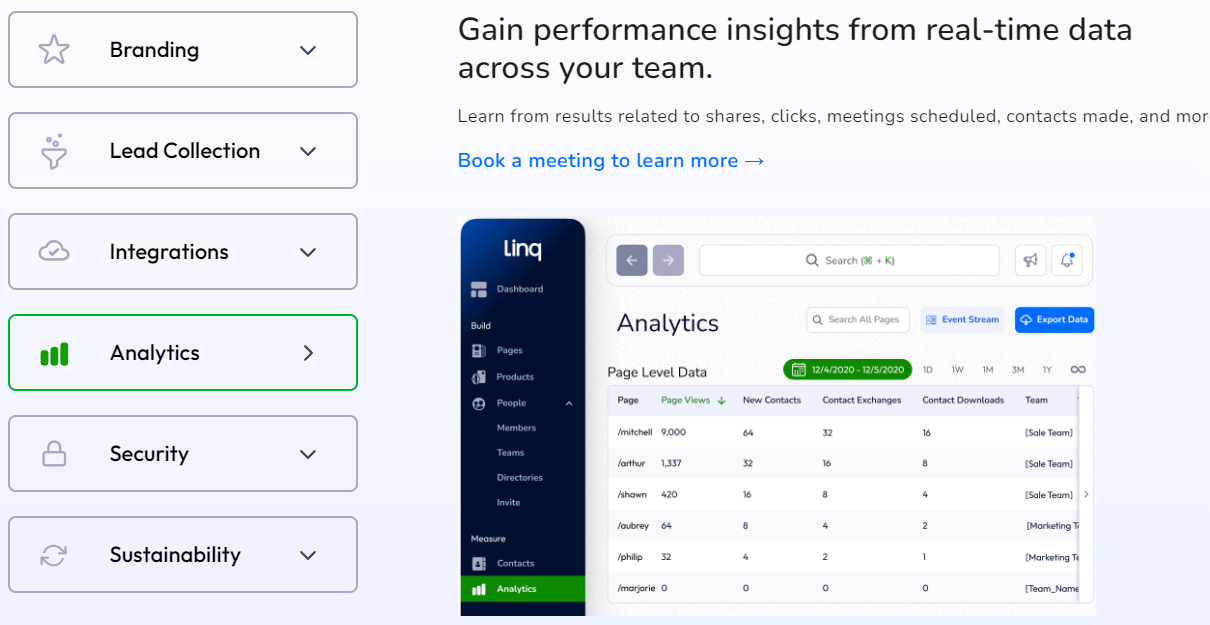 Linq completely transforms old-fashioned paper business cards by introducing a simple and efficient technology. It allows you to connect quickly, share contacts effortlessly, analyze data comprehensively, integrate with CRM systems, and even scan business cards. With Linq, you can leave behind outdated methods and embrace a modern way to network and exchange information.
Linq Pricing
Fully custom cards: from $36.99

Cards with custom logo: from $29.99

Custom metal cards: $74.99

Badges: from $34.99

Custom taps: from $29.99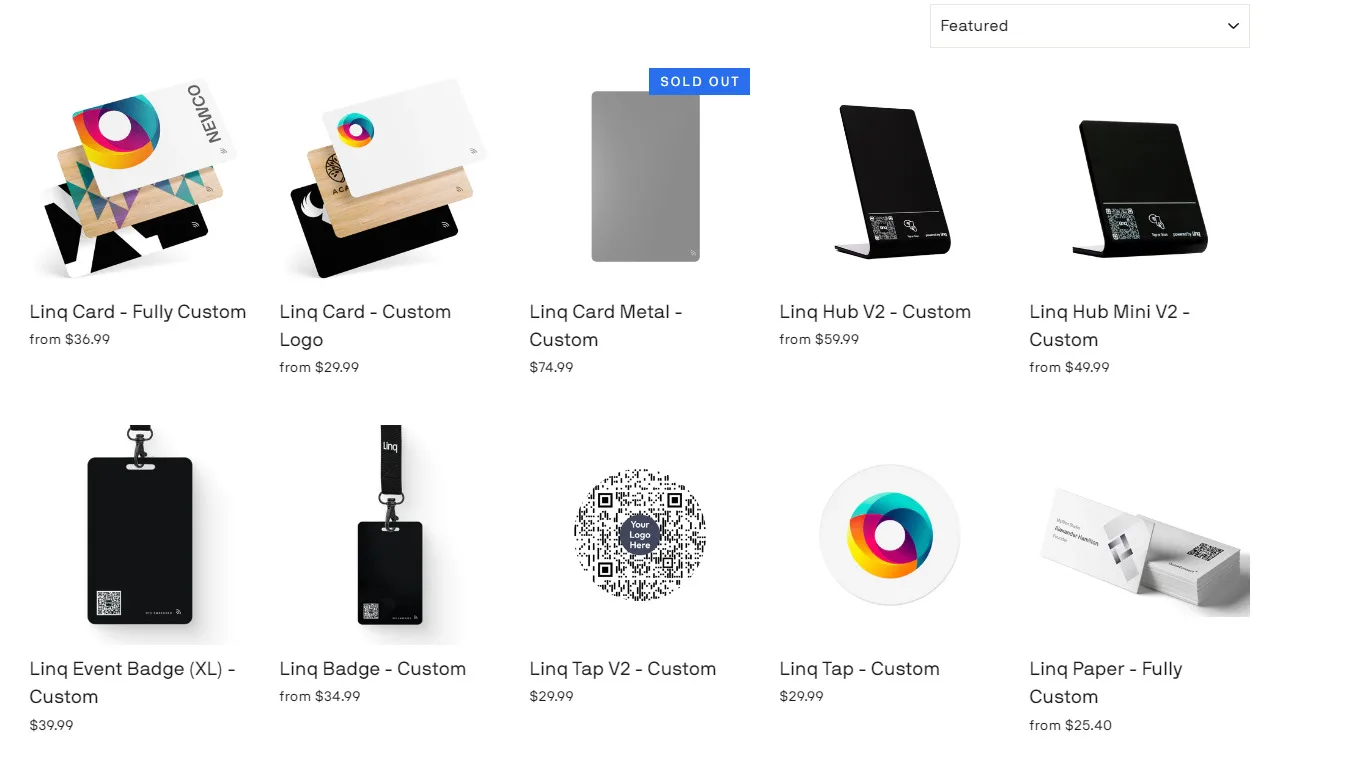 Linq options
Fully customizable cards: Choose from a wide array of beautiful designs, ranging from sleek and professional flat black to unique bamboo styles.
Custom phone taps: NFC tags or stickers that can be placed anywhere, including on your phone.
Smart Hubs: Perfect for networking events or if you always carry a badge around your office.
Linq bracelet: Equipped with NFC chips and a QR codes
Key features:
Intuitive and sleek dashboard

CRM integrations

Advanced analytics for lead generation and networking

Fully customizable options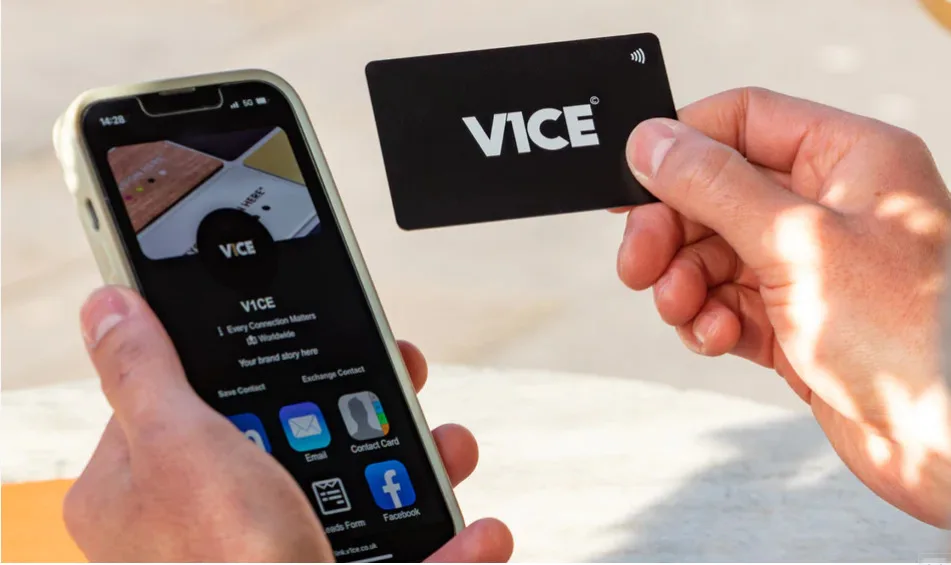 V1CE is a business card printing company that provides unique products utilizing NFC technology to transform networking. Their lineup includes digital business cards, Table Talkers, Phone Cases, Phone Cards, and Keyrings equipped with NFC chips. These chips are programmed with state-of-the-art software, enabling you to effortlessly display your information such as contact details, email, social media links, e-menus, files, bookings, and much more. Additionally, the software enables you to collect contact information for lead generation and sales retention, ensuring that potential leads are successfully converted into customers.
V1CE Pricing
Metal Cards: $126
Bamboo Cards: $50
Original Cards: $50
Gold Card: $380
V1CE Leather Wallets: $80
Phone NFC Cars: $50
Phone Cases with NFC Chip: $50
V1CE Key Features:
V1CE in-house design team that can design your custom NFC business card for free
Excellent Customer Support
V1CE warranty that covers accidental damage, loss of product and more
Adobe Suite design templates available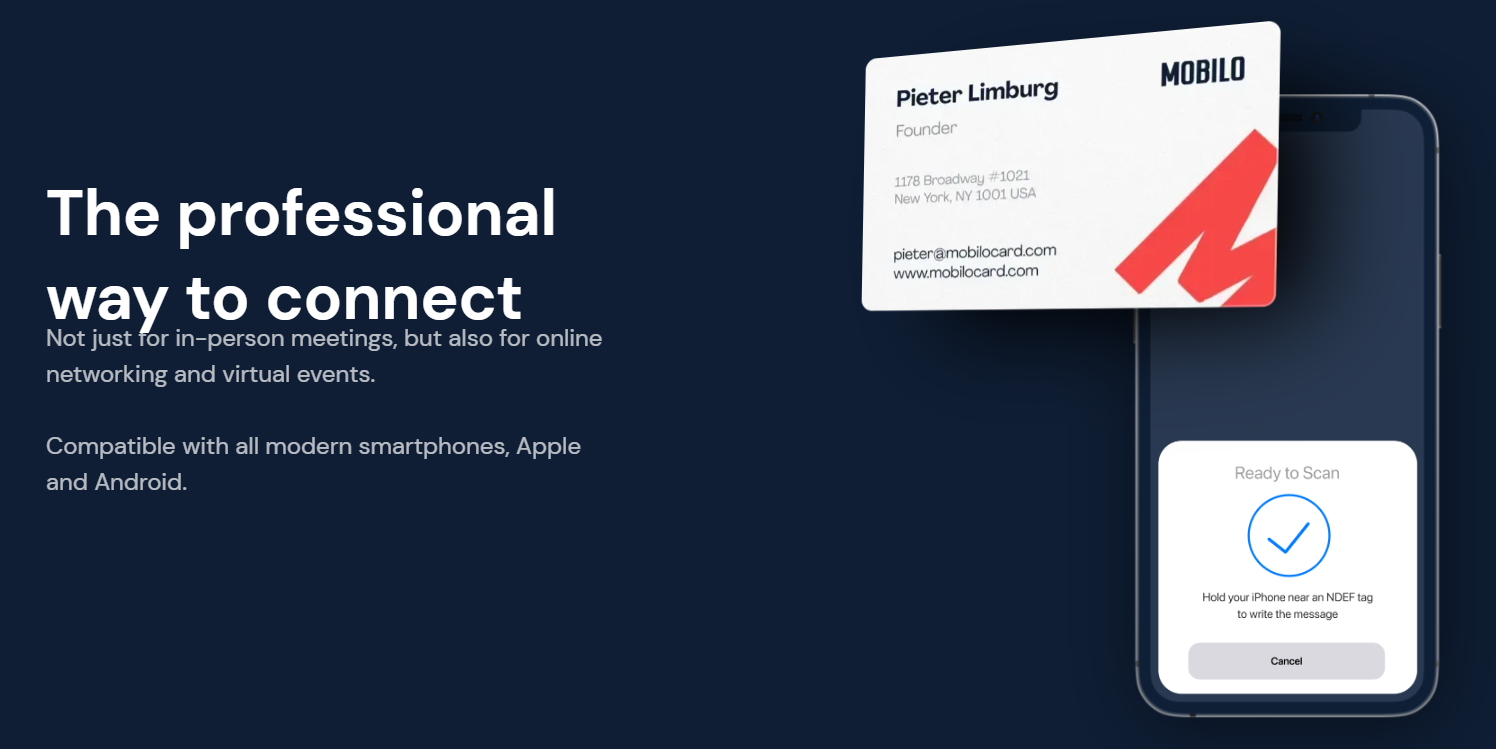 Mobilo cards are exceptional in terms of quality and functionality, featuring an embedded NFC chip. These cards are crafted from premium materials and meticulously laser-engraved with a remarkable 600 DPI resolution, covering the entire printing area. They offer a range of finishes including matte, glossy, brushed, and polished, providing options to suit different preferences. Furthermore, Mobilo cards present a diverse selection of materials such as plastic, wood, metal, and NFC attachments, ensuring versatility and customization possibilities.
Mobilo Card Pricing
Classic: $19.50

Wood: $29.50

Metal: $69.50

Key Fob: $2.50

NFC smart button: $2.50

CRM Integration: $20 per year

Mobilo Card Options
Plastic: designed for a long use

Wood: eco-friendly option

Metal: made from stainless steel with laser engravings, available in black, silver and gold

NFC key fob: can be attached to a keychain

NFC smart button: can be attached to the back of your phone
Key features:
Available on Android and iOS

Plug and Play lets devices connect automatically

QR Codes

Integration with more than 3000 CRM apps
Powered by NFC (Near Field Communication), a TapTok NFC business card enables professionals to effortlessly exchange contact information, social media profiles, and websites with a simple tap on a compatible smartphone. By eliminating the need for manual data entry and integrating with popular social media platforms, TapTok enhances networking efficiency and expands digital connections. With built-in analytics and insights, users can measure the impact of their networking efforts and make informed decisions. Embrace the future of networking with TapTok NFC Business Card and unlock a world of effortless connections at your fingertips.
TapTok Pricing
Essentials Card: $9.99

Plastic Custom Card: $59.99

Metal Card: $79.99

Metal Custom Card: $99.99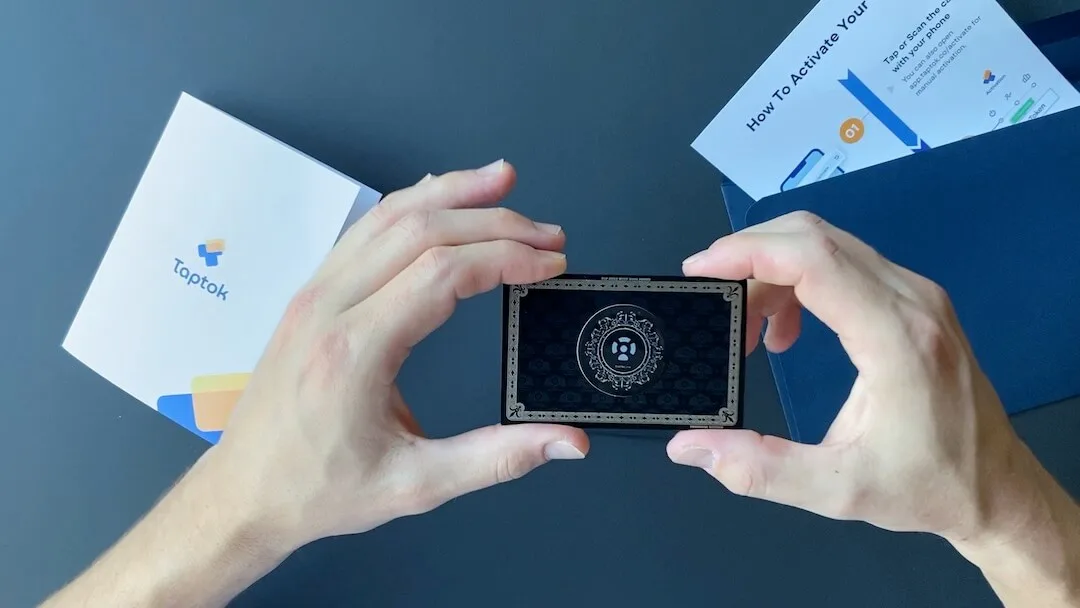 TapTok Key Features:
Customizable Profiles

Environmentally Friendly

User-Friendly Interface

Versatility and Compatibility
Why Choose NFC Business Cards?
I think a big pro of NFC is that you don't have to cram all of the contact info, addresses, an image of yourself, a website URL, and links to social media platforms on a small card. Instead, you can just add a logo and the name of your company, and by tapping on the card, a potential client can get access to all the info they need. The best part is that with NFC, you just need one card, which is going to be much more affordable than getting a stack of paperback cards.
My Advice on how to grow your brand and network with business cards
Choose metal NFC business cards for a unique and memorable impression.
Design your cards beforehand using Adobe Suite, Canva, or built-in editing tools. Save the design in PNG format to avoid compression.
Also, order standard paper cards with QR codes for wider marketing.
Include essential contact information, like name, title, company, phone, email, and website.
Consider using the Linktree tool to streamline your social media platforms and add the Linktree URL to your business cards.
Use a QR code generator to link to valuable content, such as portfolios or special offers.
8. Distribute NFC cards at events to start conversations and make an impact.
9. Hand out paper cards in direct marketing campaigns or local businesses.
10. Follow up with personalized emails or LinkedIn connections after exchanging cards.
11. Keep cards up-to-date with current information.
MOO: Premium Regular business cards
The best choice for premium business cards is MOO. It offers high-quality cards with modern designs and luxurious finishes. MOO cards are printed on thick 350 GSM matte paper that feels substantial.
MOO provides an easy-to-use card designer with templates and customization options. You can upload images, add logos, choose fonts, and select standard or oversized sizes up to mini cards. MOO offers flexibility to craft the perfect business card.
NFC Business Cards FAQs:
You probably have a few questions about NFC business cards and how they work. Here are some of the most frequently asked questions about NFC.
Do NFC Cards Need to Be Charged?
An NFC chip consists of a storage memory, a radio chip, and an antenna. Unlike some other technologies, NFC cards do not require their own power source as they utilize the battery of the device they are connected to for data transfer. This means NFC cards do not need to be charged separately.
Do I need an NFC-enabled phone to use NFC business cards?
Yes, in order to read and interact with NFC business cards, you need an NFC-enabled Android or Apple iOS smartphone. Many recent models support NFC, but older phones likely do not. Check your phone specifications to confirm if it has an NFC chip before investing in NFC business cards.
Why Choose NFC Business Cards?
NFC business cards are truly a game-changer when it comes to expanding your professional network. Imagine attending a conference or a networking event armed with your NFC business cards. As you meet new people, instead of fumbling for pens or struggling to recall email addresses, simply tap your card against their NFC-enabled device, and voila! Your contact details are effortlessly shared. It's like having a digital handshake at your fingertips. It's efficient, effective, and leaves a lasting impression.
Are NFC business cards better than QR code business cards?
NFC and QR codes both allow you to share digital information by scanning a physical card, but NFC is generally considered a faster, more seamless experience. With NFC, you simply tap the cards together to connect. QR codes require manually opening a QR reader app and aligning the code in the camera viewfinder. However, QR codes have wider compatibility since more devices support QR code scanning versus NFC. It depends on your priorities and target audience.
Do NFC business cards work without an internet connection?
NFC business cards themselves do not require an internet connection to function. The NFC chip embedded in the card can be programmed with information that is transmitted directly to the scanning device via NFC. However, many NFC business cards are designed to link to an online profile or provide a URL, in which case an internet connection would be needed to access that additional content. It depends on how the specific NFC business card is set up.
Conclusion
So there you have it, the 5 best NFC business cards on the market today to take your networking to the next level. With so many great options out there, you're sure to find an NFC card that suits your needs and budget. These innovative cards make exchanging contact info a breeze and are bound to impress anyone you meet. So what are you waiting for? Order your new high-tech business cards today and get ready to network like never before. The future is here, so why not be an early adopter? Stay tuned for more tips and tricks for maximizing your networking efforts. The connections you make today could lead to big opportunities down the road!