Hey there, fellow YouTubers and content creators. Are you tired of spending hours editing videos for your channel? What if I told you there's a secret software out there that can make creating visuals an absolute breeze? Meet Pictory, the all-in-one video editing tool built specifically for YouTubers and vloggers. In this blog post, we will explore the powerful features of Pictory, an AI-powered video editing tool that simplifies the process of creating visually stunning videos. Let's dive into the features that make Pictory an excellent choice for content creators looking to enhance their blog posts with captivating videos.
What Is Pictory? and How Does It Work?
Pictory is a cloud-based video creation software that automates the process of creating short videos using long-form text or video content. It utilizes AI technology to convert text into engaging videos complete with stock footage, music, and voiceovers. Pictory offers a user-friendly interface and customizable templates to simplify the video editing process. It has gained popularity as a tool for creating high-conversion Video Sales Letters and social media videos.
Pictory comes with three built-in AI technologies that work together to create short videos from long texts. With natural language processing (NLP), Pictory automatically summarizes the text into a few important sentences, each of which becomes a scene in the video. By combining NLP with computer vision (CV), Pictory selects relevant background visuals for each sentence. Additionally, Pictory uses text-to-speech (TTS) to narrate these key sentences and provide a voice-over for the final video.
Pictory Features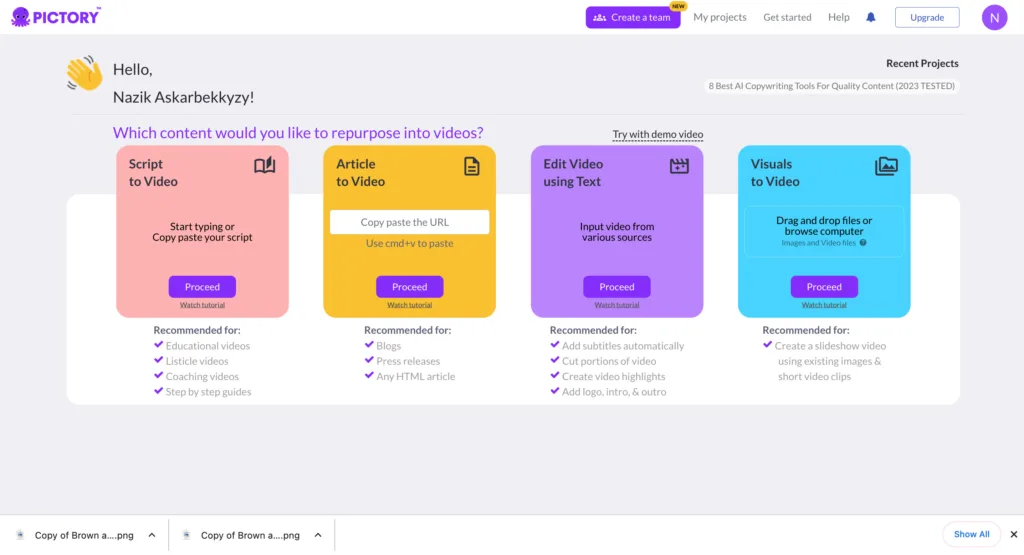 Pictory offers a range of capabilities, including blog-to-video creation, repurposing long-format videos, editing through text, and more.
Blog-to-Video Creation
Pictory's blog-to-video creation feature is designed to help you effortlessly convert your existing blog content into engaging videos. By breaking down your blog post into scenes, adding customizable captions, and matching stock videos for each scene, Pictory automates the video creation process and saves you valuable time and effort.
Repurpose Long Format Videos
With Pictory, you can repurpose webinars, Zoom meetings, and YouTube videos up to 3 hours in length and 5 GB in file size. The AI-powered transcription feature generates a transcript of the video and highlights the most interesting parts, allowing you to edit and create highlight videos with ease.
Editing Through Text
Pictory's text editing feature allows you to remove specific parts of the video by editing the transcription. Whether you add a URL for a YouTube video or upload a file, Pictory generates a transcription that can be easily modified to remove unwanted content or enhance the overall video.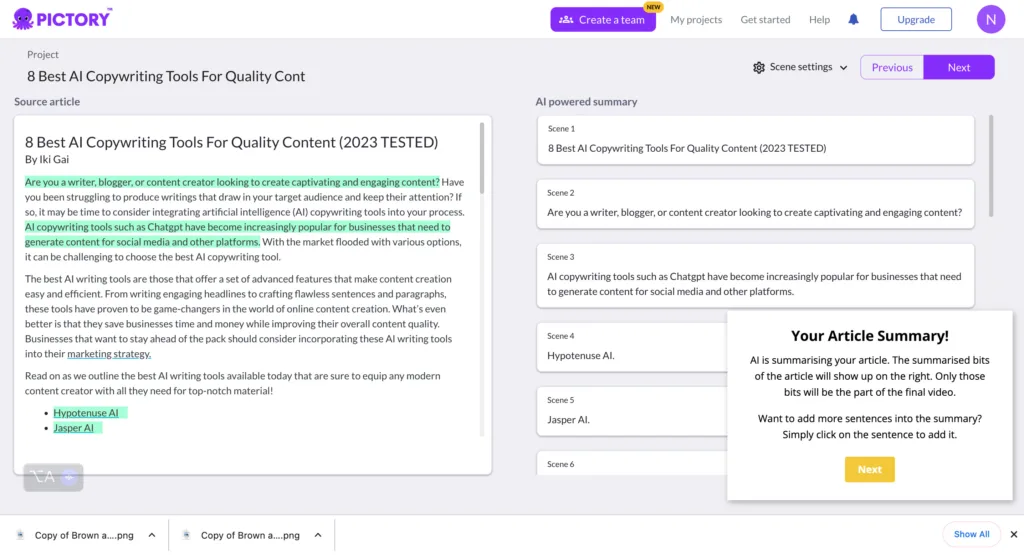 Audio Features
Pictory offers a range of audio features to enhance your videos further. You can choose from a selection of high-quality music and voice options, including UK accents and child voices. The tool also allows you to create voiceovers, remove filler words, and eliminate silences, ensuring a professional and polished final product.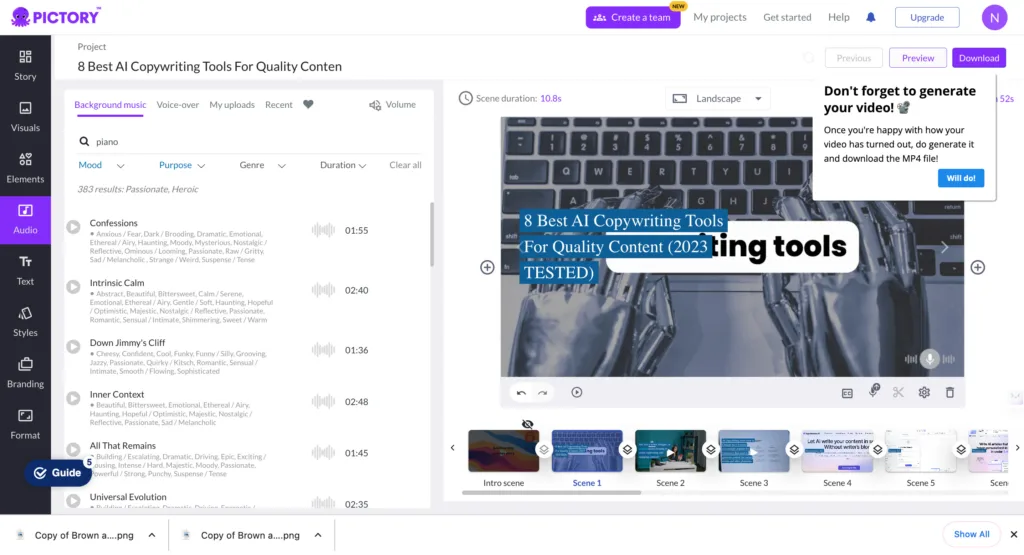 Auto Captioning
Pictory simplifies the process of adding subtitles or captions to your videos. The AI-powered auto-captioning feature generates accurate and readable captions, making your videos accessible to a wider audience and improving engagement.
Easy Editing and Fast Processing
Pictory provides a user-friendly interface and intuitive editing tools that make video editing a breeze. The fast video processing ensures quick turnaround times, allowing you to complete your video projects efficiently.
Customizable Styles and Resolution
With Pictory, you can customize the intro and outro styles of your videos, giving them a unique and branded look. Additionally, you have the flexibility to choose between 720p and 1080p resolutions, catering to different platform requirements and optimizing video quality.
Cloud-based and Easy Integration
Pictory operates on the cloud, eliminating the need for software downloads and enabling seamless collaboration and access across devices. The tool integrates smoothly with popular blogging platforms, making it convenient to publish and promote your videos.
Pictory Cons
Limited Video Uploads for Free Plans: Pictory's free plans may have restrictions on video upload sizes, limiting file sizes to 1 GB or video lengths to 1 hour. This limitation could impact users who frequently work with longer-format videos or larger file sizes.
Manual Touch-Ups Needed: While Pictory's AI capabilities are powerful, some users have noted that the tool may require some human revision. However, with the time and effort it saves, this minor inconvenience is well worth it.
Even though there are limitations, Pictory is still a great tool for video editing. Its wide range of features, user-friendly interface, and affordability make it an excellent choice for both beginners and experienced editors.
Pictory Pricing: How Much Does It Cost?
Pictory offers several subscription plans at different price points depending on your needs. The good news is, they frequently run promotions offering the first month free or at a discount, so you can try it out without commitment.
Free Plan
3 video projects, each of up to 10 mins long
Standard Plan
1 User Per Account
30 videos per month
Text-to-video projects of up to 10 min in length
10 hrs of video transcription/month
Edit existing video recordings up to 1 hr long
3 Branded Templates you can customize and save
5,000 music tracks
34 text-to-speech AI voices
$19/month for an annual subscription
Premium Plan
1 User Per Account
60 videos per month included*
Text-to-video projects of up to 20 min in length*
20 hrs of video transcription/month*
Edit existing video recordings up to 3 hrs long
10 Branded Templates you can customize and save
10,000 music tracks
60 text-to-speech AI voices
Automatic voice-over synchronization
Automatic video highlights
Hootsuite integration
Bulk download of videos to CSV
$39/month for annual subscription
Teams Plan
3 Users Per Account*
90 videos per month included*
Text-to-video projects of up to 30 min in length*
20 Branded Templates you can customize and save
15,000 music tracks
Sharing & Collaboration Features
$99/month for annual subscription
Pictory 3 Best AI Video Editing Alternatives
When it comes to AI video editing tools, Pictory is undoubtedly a game-changer for YouTubers and content creators. But if you're looking for some alternatives that can offer a similar level of efficiency and quality, here are five options worth considering:
Runway
Runway is an AI research company that has developed a range of tools for video editing. Their video editing tools offer features such as video effects, audio editing, and motion tracking to streamline the editing process and produce stunning videos.
Adobe Premiere Rush
Known for its professional-grade editing software, Adobe also offers Premiere Rush, a user-friendly alternative that incorporates AI capabilities. This tool enables YouTubers to edit videos on-the-go, with features like auto-ducking for background music and auto reframing for different aspect ratios.
InVideo
InVideo is a versatile video editing tool that combines AI technology with a vast library of pre-designed templates. With its drag-and-drop interface and automated edits, InVideo streamlines the editing process, allowing YouTubers to create engaging videos in a fraction of the time.
While Pictory remains a compelling choice, exploring these alternatives can provide you with a variety of options to suit your editing style and preferences. Each tool has its own unique features and strengths, so it's worth experimenting to find the one that best complements your creative vision.
Pictory vs. Traditional Video Editing Software
While Pictory offers a range of benefits for YouTubers, it's important to consider how it compares to traditional video editing software. While both options have their advantages, Pictory's AI-powered capabilities provide a significant edge.
Traditional video editing software often requires a steep learning curve and extensive manual editing. You might spend hours adjusting color, creating transitions, and syncing audio. This process can be time-consuming and tedious, especially for YouTubers who want to focus more on content creation.
Conclusion
So there you have it. Pictory can save you hours of work and help take your YouTube channel to the next level. For a few bucks a month, you get access to a huge library of media that you can use freely in your videos. You don't have to worry about copyright issues or spend time creating your own images and footage.
Instead, you can focus on creating great content, building your audience, and growing your channel. Pictory makes it easy to add engaging b-roll, intro sequences, and visuals to bring your videos to life. The options are endless.
What are you waiting for? Sign up for a free trial today and see how much time you can save. Your viewers will thank you, and you'll wonder how you ever created content without it. Pictory is the secret weapon you never knew you needed. Now get out there and create your next viral hit!