AI (Artificial Intelligence) is advancing and improving rapidly, revolutionizing the design industry and how designers work. It has the potential to reduce manual work, automate processes, and generate more creative solutions beyond human imagination. Let's look at some of the aspects of design where AI is making rapid advances and offering exceptional benefits.
👩🏻‍💻 Website design and development:
AI is revolutionizing website development by making it possible to build complex websites efficiently. With AI-powered design tools, designers can customize templates and create websites without human intervention. Solutions like Glitch and Wix use AI to evaluate website users' preferences and deliver personalized web design experiences.
🎥 Video editing and generation:
With AI, features such as color correction, upscaling, noise reduction, and subtitle generation are conducted automatically, reducing manual work required. By incorporating AI-powered software like Lumen5 and Wibbitz, designers create engaging video content without having to work through complex processes manually.
📸 Photo editing and art generation:
AI has significantly improved the efficiency of photo editing, from facial recognition and face swapping to automated cropping and background removal. Solutions like Adobe Sensei and Pixelmator Pro use machine learning algorithms to improve noise reduction, color grading, shadow adjustment, and other enhancements. Moreover, AI-powered art generators like Midjourney and Adobe Firefly can produce incredible artwork on their own or offer a starting point for further customization.
Let me introduce you to eight of the best AI design tools available on the market that I have tried and tested. First up is Fronty, the one-of-a-kind image-to-code converter.
Fronty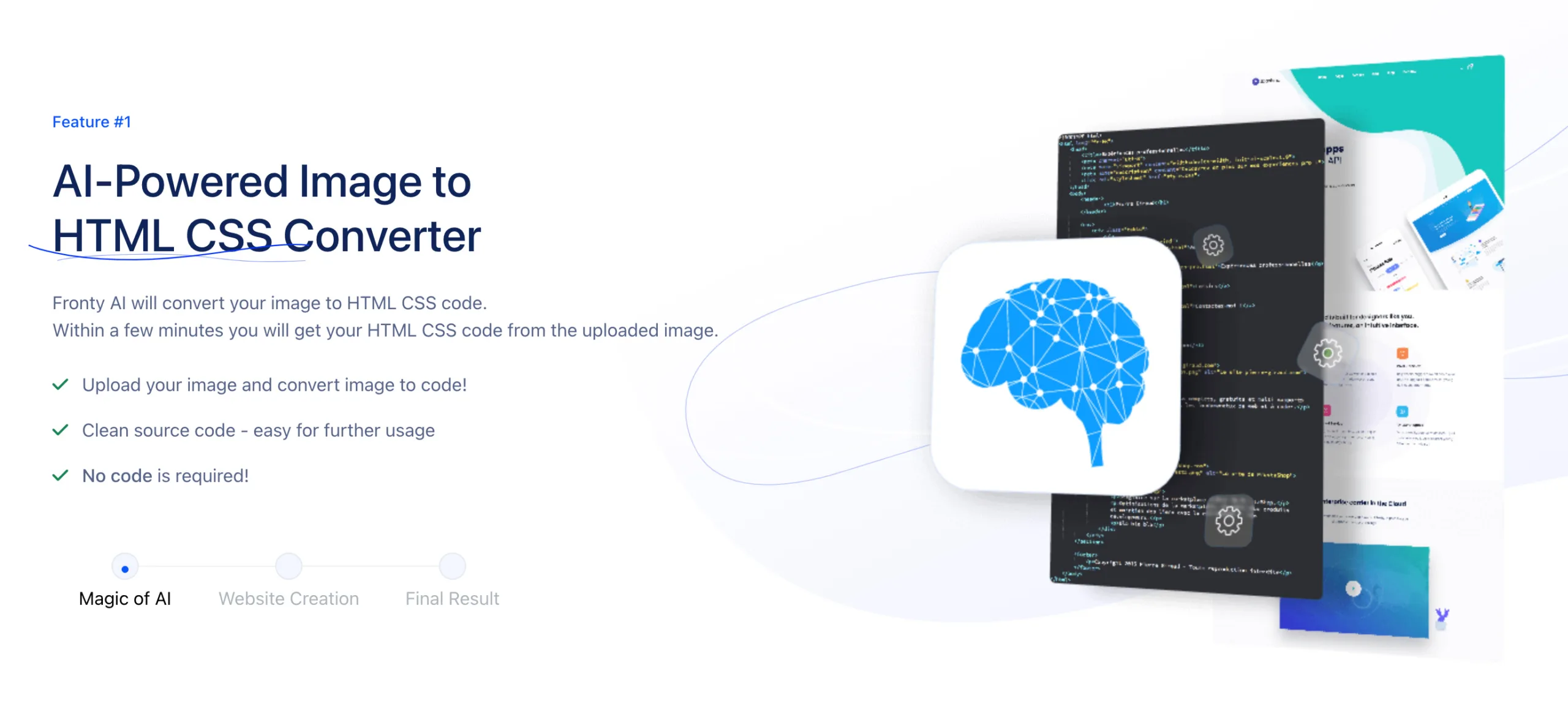 Fronty is an innovative web design tool that simplifies the way designers and developers approach website design. This platform provides an extensive range of features that make designing and developing websites smoother, faster, and more efficient. One of the standout features of Fronty is its Image-to-HTML SCSS converter tool, which helps to convert images to high-quality responsive code.
The Image-to-HTML SCSS converter tool is powered by an advanced AI system that analyzes an image and generates precise HTML SCSS code for web development. The code generated is minified, mobile-responsive, and SEO optimized, thus ensuring that it offers an excellent user experience, regardless of the device used. With Fronty's Image-to-HTML SCSS converter, designers no longer need to waste valuable time manually writing HTML code.
Another vital feature of Fronty is automated commenting on the code, making it easier for other developers to easily understand, edit, and maintain the project. This feature is especially handy for teams working on collaborative projects. Additionally, Fronty offers an in-built no-code content editor that allows developers and designers to modify and customize the code further making it unique for their website.
Furthermore, Fronty frees users from the hassle of finding and setting up hosting. It offers custom domains and hosting, making it easier for users to launch their websites with minimum effort.
Fronty is an excellent option for students who are studying UX/UI design and web development. It provides a more practical approach to learning HTML and SCSS. By using Fronty, students can not only perfect their coding skills but also learn about creating beautiful frontends that match their design vision.
Canva
Canva is a versatile graphic design platform that offers a wide range of tools for designers, marketers, and non-designers alike. The platform has a user-friendly interface that is easy to navigate, and it has become a must-have tool for businesses and individuals looking to create professional-looking designs of all kinds. Canva aims to provide users with the most intuitive and user-friendly experience possible, which is reflected in the variety of capabilities and features the platform offers.
One of the standout features of Canva is its incorporation of AI-powered tools and features. For example, Canva's Magic Resize tool uses AI to automatically adjust the size and format of designs with just one click, making it easy for users to create different-sized social media posts, website banners, and more, without having to design each one individually. The platform's Colorizer tool also uses AI to help users find the perfect color palette for their designs, providing suggestions based on the primary colors used in the image or design.
Canva also offers an extensive range of stock photos, illustrations, and graphics, and its AI-powered image recognition tool aids in image searches. The AI system recognizes and automatically tags visuals with appropriate keywords, thereby making it faster, easier, and more efficient to find the desired image.
Canva's Design School offers helpful tips to both novice and experienced designers. The platform offers templates, graphics, and other designs that can be customized to meet businesses' branding and design needs. Additionally, Canva includes useful features such as collaboration, enabling co-workers to communicate and work on a design project in real time.
In addition to all of its features, Canva is also known for its versatility. It's a platform that excels in creating presentations, videos, and website mockups. With templates specifically tailored to each category, users are given a head-start, saving valuable time and energy. The versatile range of tools and features offered by Canva makes it a one-stop shop for all design needs.
In addition to the features already mentioned, Canva includes a remarkable AI Art Generator.
The Art Generator enables users to create custom illustrations by inputting a description of the illustration they wish to generate. With this feature, users can easily create custom graphics and illustrations, saving both time and money that would have been spent hiring graphic designers or digital artists. It's a great feature that makes it easy for those who lack design skills to create original artwork.
Talking Heads is yet another unique feature that allows users to create dynamic videos with animated characters. By simply selecting a character from the library and their own script and voiceover, users can create high-quality videos that engage viewers and effectively market their brand or products. With a range of characters and scenes to choose from, Talking Heads offers limitless possibilities for creativity, giving businesses a unique way to communicate their message.
Canva's Talking Heads feature is especially useful for small businesses and entrepreneurs who may not have the resources to create professional business commercials and ads. With its easy-to-use interface and customizable characters, Talking Heads provide a low-cost solution for creating engaging video content.
Taken together, Canva's features, including AI-powered tools such as the Art Generator, Talking Heads, and Image Recognition tool, are a major draw for users looking to create professional-grade designs quickly and easily. With its broad range of tools and capabilities, users are given the freedom to design and customize their illustrations, videos, and graphics to suit their branding needs.
Let's Enhance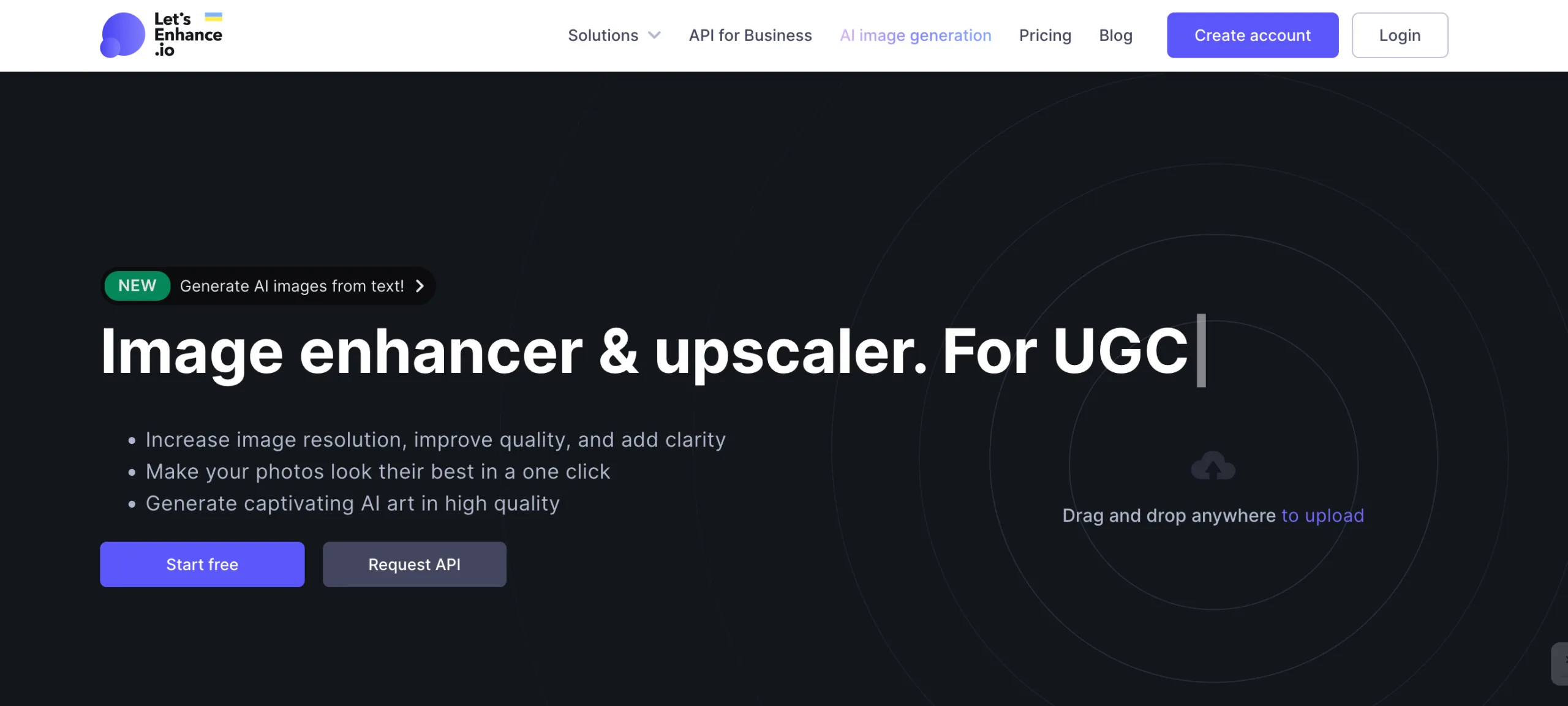 Let's Enhance has gained a lot of attention from photographers, marketers, and artists due to its advanced features that improve image quality in a matter of seconds.
One of the key features of Let's Enhance is its AI-powered image upscaling technology that can enhance images up to 16 times their original size. This feature is essential for marketers and photographers as it allows them to take a small image and upscale it without compromising quality, making them perfect for high definition printing on big canvases. The results generated by the software are so precise that it's almost impossible to tell the difference between the original and the upscaled image.
Another significant benefit of using Let's Enhance is its ability to remove JPEG artifacts from compressed images. This feature is essential for people who face issues with JPEG compression when uploading images to the web as it enhances the image quality to the intended resolution.
Let's Enhance also stands out for its ability to generate art based on a text prompt. This feature allows artists to create art not only based on imagination but also on prompts. The art generated by this feature is incredibly eye-catching and unique, making it perfect for social media, websites, and marketing purposes.
In addition, Let's Enhance offers mobile-friendly features, making it ideal for people who shoot low-quality images on their phones. The AI technology behind the software enhances low-quality images by removing noise and sharpening the image, resulting in high-quality images that are ready for digital and physical media.
In conclusion, Let's Enhance is tool for photographers, designers, influencers, and bloggers who require high-resolution images, need to remove JPEG artifacts, want to generate art based on text prompts, or have low-quality images shot on mobile phones. With its advanced AI-powered technology, Let's Enhance has become a powerful design tool that saves time and produces remarkable imagery.
Designs AI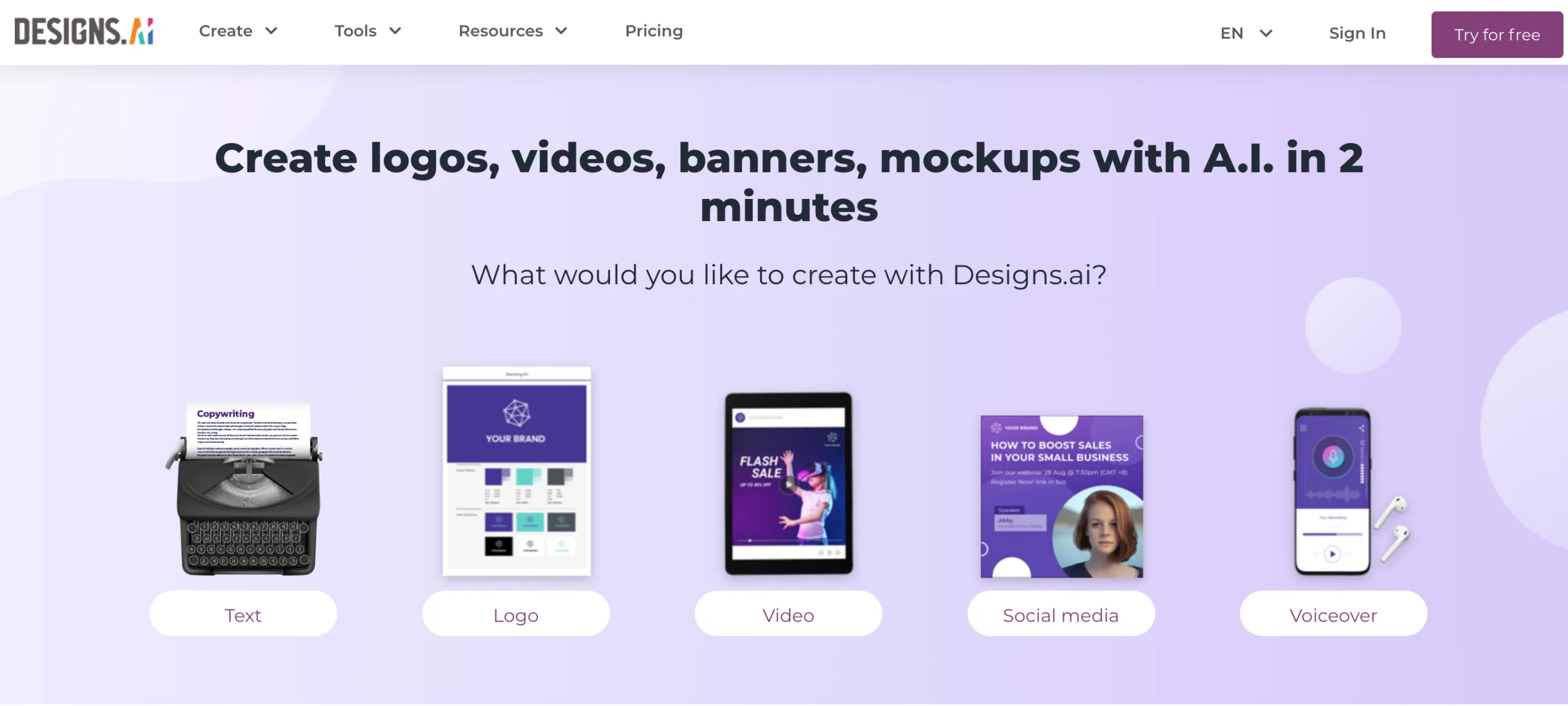 Designs Ai is a versatile and comprehensive platform designed to meet the needs of designers, marketers, content creators, and business owners. The advanced features of this platform are powered by artificial intelligence, which makes it an indispensable tool for generating high-quality logos, videos, mockups, and much more.
The Video Maker tool on Designs Ai is impressive in that it guides users through the creation of professional-looking videos, complete with custom soundtracks, transitions, and branding options. With this feature, users can bring to life engaging, attention-getting text-based greetings, product promotions, and other short videos that will enhance their brand and marketing strategy.
The AI Writer is another useful tool on Designs Ai that incorporates AI technology to generate compelling, well-written copy based on the user's input. This feature utilizes state-of-the-art natural language processing and machine learning algorithms to write engaging and SEO-optimized copies and provides a helpful boost to businesses looking to streamline their content creation.
Design Maker is a highlight of Designs Ai that leverages AI's advanced capabilities to help users create stunning graphics for branding purposes and marketing campaigns. The platform's drag-and-drop interface allows users to easily create interactive and visually captivating designs such as social media graphics, print ads, and much more, with little to no design background.
The Speech Maker tool on Designs Ai is an exceptional feature that allows users to convert text into lifelike audio in realistic computer voices. With customizable human-like voice options and various settings, businesses can generate engaging voiceovers, product descriptions, podcasts, and other kinds of audio media.
The platform's broad range of features is designed to help businesses improve their branding, marketing, content creation, and other production needs quickly and easily.
Fotor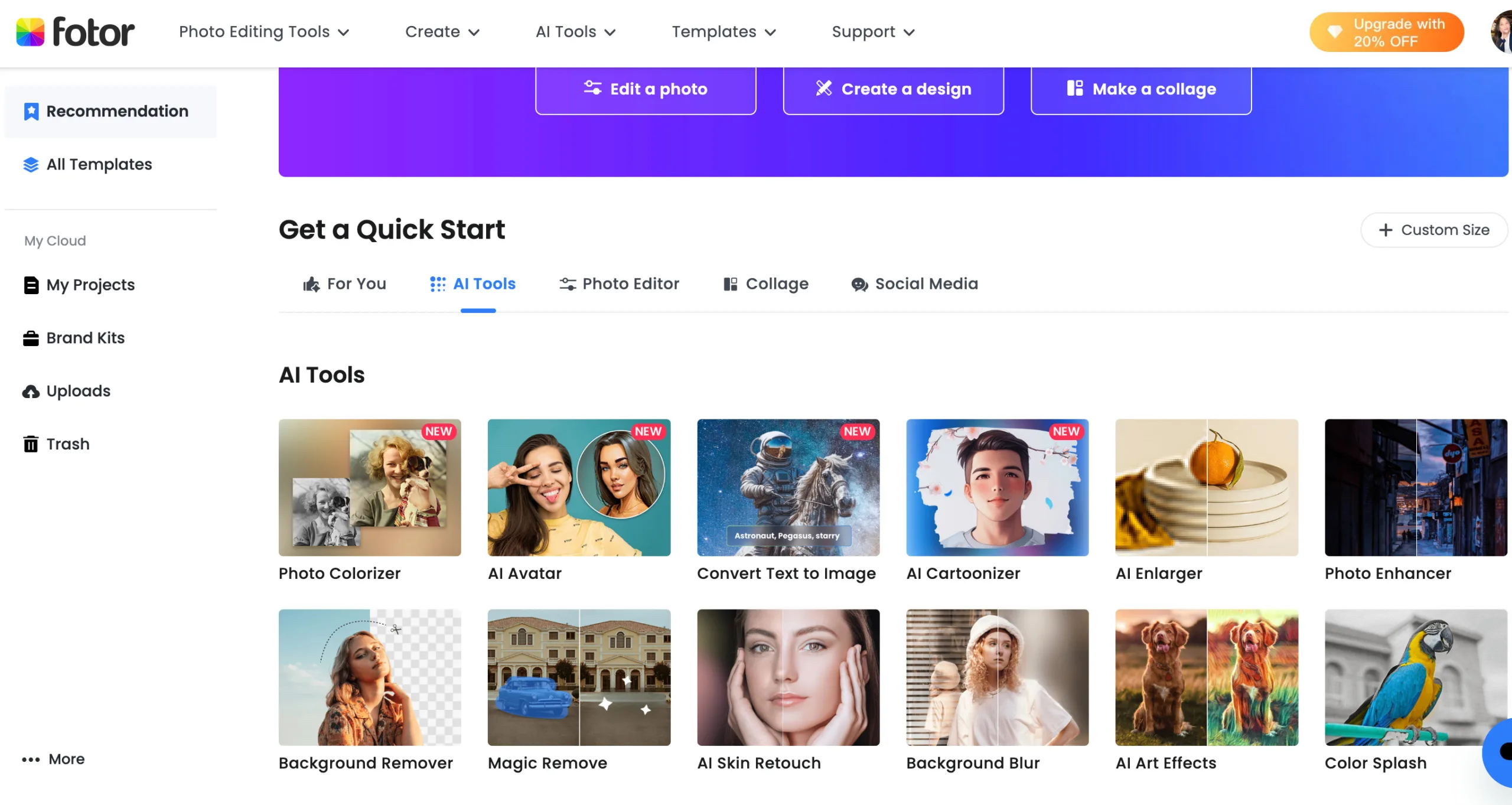 Fotor is an online photo editing and graphic design platform that offers a wide range of editing tools, including photo effects, frames, text, stickers, and HDR imaging tools. The platform is available through its website as well as mobile applications for iOS and Android. Fotor's intuitive interface, similar to Canva, is easy to use even for beginners in photo editing. It also offers advanced editing options like removing backgrounds, adjusting contrast, and adding filters to give images a more professional look. Fotor is used by photographers, graphic designers, and social media professionals for creating striking visuals for websites, blogs, and social media platforms. The platform offers both free and paid plans with varying features and access to Fotor's stock photo library. Additionally, there are various templates available for creating designs such as posters, business cards, and flyers which make it a great all-around graphic design tool.
Fotor has various features that are powered by AI technology, making it a robust platform for photo editing and graphic design. Some of its AI-powered features include:
Object & Background Remover: This feature uses AI technology to instantly cut out the unwanted parts of an image while keeping the subjects intact. This makes it easier for users to create designs and collages without worrying about the background and unwanted objects.
AI art generator: It lets users generate creative images based on text prompts. Moreover, Fotor can utilize uploaded selfies to create stunning avatars.
Night Shot: This feature helps to improve the quality of photos that are taken at night, by reducing the amount of noise and adjusting the brightness levels of the.
Artistic Filters: This feature uses AI technology to add artistic filters to the photos, giving them a stylized and professional look. It also offers a range of filters that can transform an image into a painting-like or sketch-like work of art.
Photo Enhancement: Fotor uses AI algorithms to automatically enhance the quality of the photo, adjusting the brightness, contrast, and saturation levels for optimized results.
Skin retouch: This AI-powered feature helps to enhance the natural beauty of the subject in the photo by removing blemishes, smoothing out the skin, and applying makeup effects.
Overall, Fotor's AI-powered features help users quickly and easily improve the quality of their photos and take their graphic design work to the next level.
Uizard
Uizard is a revolutionary platform that incorporates artificial intelligence technology to facilitate the design and ideation process. It is an essential tool for UI/UX designers that streamlines the process of creating UI mockups and wireframes, saving hours of tedious work. The platform provides several features tailored to suit the needs of designers, such as the AI-powered design assistant, which helps users automatically convert their design sketches into digital interfaces, which can be edited and customized later.
Another important feature is the Uizard Autodesigner which uses AI technology to automatically generate unique design ideas based on the user's preferences and input, thus saving time that would have been spent brainstorming design ideas.
The Uizard screenshot feature, on the other hand, enables users to snapshot any webpage and convert it into a customizable UI mockup. This feature allows designers to work with real-life projects and further develop their design ideas in real time.
Looka
Looka is a comprehensive platform that offers logo design, branding, and website builders to businesses. The platform enables entrepreneurs to build a cohesive brand kit that includes a logo, color scheme, and fonts. This brand kit can be further customized and used across platforms to provide a unified and professional look for the business.
Some of-powered features include:
Logo Maker: The platform's AI algorithm analyzes user input such as business and industry and creates unique logo design concepts in minutes. Users are able to customize the font, color, and layout of the logo to meet their.
Brand Kit: Looka's AI technology helps users assemble a brand kit that includes a logo, color scheme, and typography that consistently represent their brand across all platforms.
Social Media Kit: The platform offers optimized graphics for social media platforms like Facebook, LinkedIn, and Twitter. This AI-powered feature suggests suitable templates that users can use as a basis for creating unique, high-quality graphics for their social media accounts.
Website Builder: Looka's AI-powered website builder integrates the branding elements of a business into a beautiful, functional, and responsive website. The platform offers optimized templates that users can edit by dragging and dropping elements to fit their preferences.
Overall, Looka's AI-powered features provide branding and design solutions for businesses. The platform's AI technology helps to simplify the design process while ensuring that each element of the design is consistent with the brand, giving businesses a professional and unified look across all platforms.
Adobe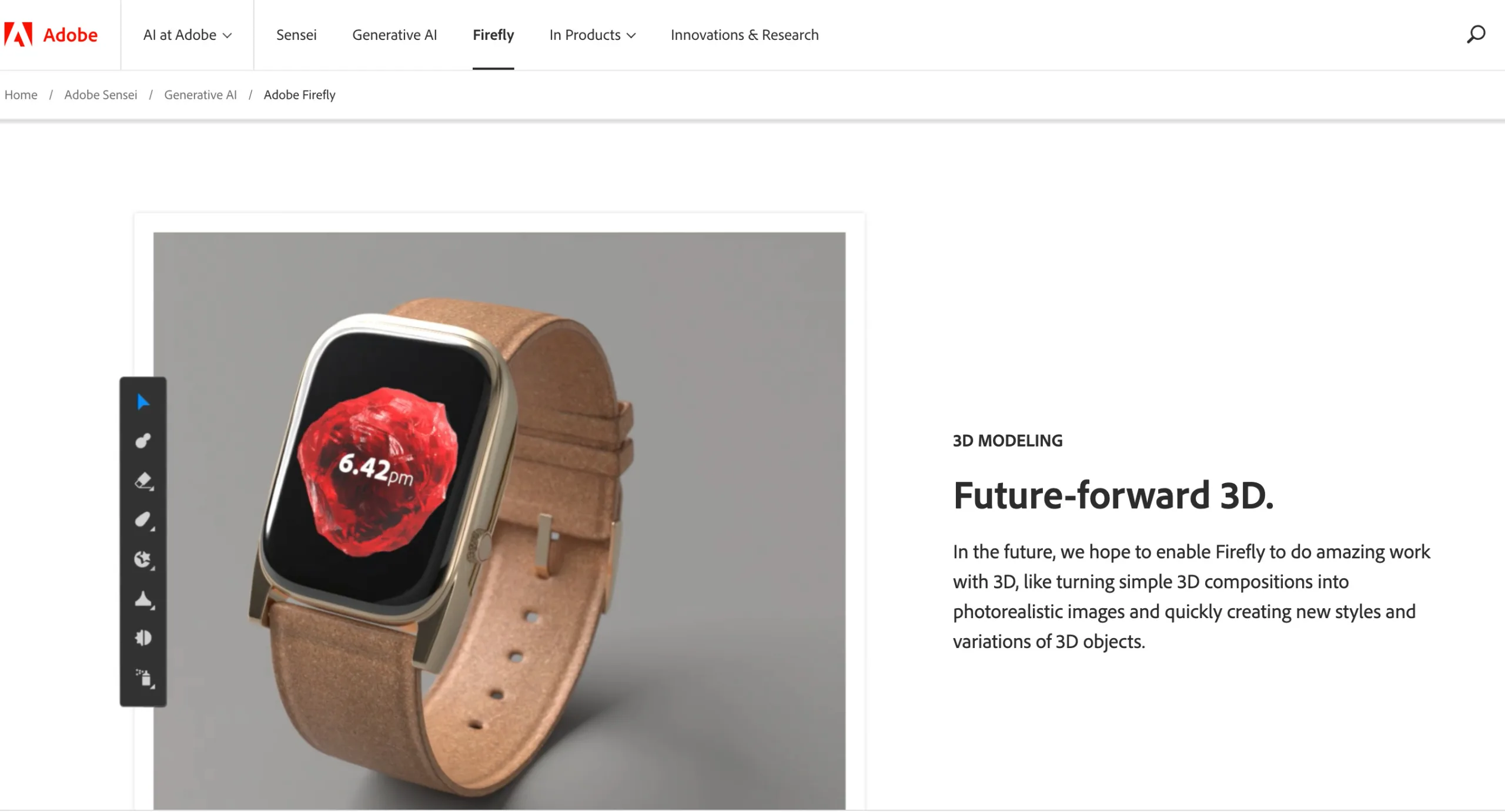 Adobe Suite is one of the most widely used software platforms by designers, photographers, and video creators worldwide. Adobe Suite has been the go-to choice for creative professionals since its inception in the 1980s, and its continued growth is a testament to how it has adapted to serve the increasingly complex needs of its users. In recent years, Adobe has incorporated AI technology features into the platform that enhances user experience and help automate specific application workflows. Adobe Sensei interprets users' requirements and preferences and delivers results with unprecedented accuracy and speed. One of the most notable things about Adobe Sensei is its ability to analyze and recognize certain image elements, such as objects and people, which allows users to quickly edit and manipulate images without putting in too much effort.
Another beneficial AI-driven feature of Adobe Suite is the Content-Aware Fill capability that is used in Photoshop and After Effects. This feature uses advanced AI algorithms to fill gaps in images or videos that need to be removed. This feature is invaluable in reducing the time it takes to edit pictures and videos, with unwanted objects in them.
Adobe also recognized that users often used images and typography systems and standardized the graphic elements to ensure consistency and generated the Adobe Fonts. Adobe Fonts used machine-learning algorithms to predict the missing typefaces or complementary color palettes to achieve a well-balanced look in their projects.
In addition, Adobe also offers Adobe Stock, which is a comprehensive resource for high-quality stock images, vectors, and illustrations. What makes Adobe Stock distinctive is its integration with Sensei, which helps discover images with ease and speed. The integration also allows users to focus on purchasing photos that match their project briefs or even undertake AI-driven art style transfer that matches the texture and tone of the image to the look and feel of the image project.
The latest automated feature from Adobe is the "Neural Filters," which applies AI and machine learning algorithms to alter an image's appearance without distorting its quality. Such filters can change your subject's facial features, add artistic touches, shift colors, help restore damaged or aged images, and do much more.
You've probably seen some incredible images created by Midjourney and Dall-E. They are not the only AI art generators available, though. Adobe has entered the race with its very own AI art generator called Adobe Firefly, available in beta version for Photoshop, Illustrator, and Adobe Express. Unlike Midjourney and Dall-E, Adobe Firefly offers extensive customization and advanced artwork manipulation options, making it a game-changer in the market.
With the automation of such features as color correction, style transfer, object recognition, and other image-editing capabilities, and generating art, Adobe greatly simplifies and speeds up the design process, giving designers the time they need to focus on what matters.
In conclusion, AI has brought incredible advancements and remarkable efficiency to the design industry, saving time and effort while allowing designers to create superior-quality artwork. Though the technology is still in its infancy, we can expect more AI-powered advancements to hasten the design processes and provide inspiration to the designers, paving the way for more creative solutions inspired by technology.