Are you a writer, blogger, or content creator looking to create captivating and engaging content? Have you been struggling to produce writings that draw in your target audience and keep their attention? If so, it may be time to consider integrating artificial intelligence (AI) copywriting tools into your process. AI copywriting tools such as Chatgpt have become increasingly popular for businesses that need to generate content for social media and other platforms. With the market flooded with various options, it can be challenging to choose the best AI copywriting tool.
The best AI writing tools are those that offer a set of advanced features that make content creation easy and efficient. From writing engaging headlines to crafting flawless sentences and paragraphs, these tools have proven to be game-changers in the world of online content creation. What's even better is that they save businesses time and money while improving their overall content quality. Businesses that want to stay ahead of the pack should consider incorporating these AI writing tools into their marketing strategy.
Read on as we outline the best AI writing tools available today that are sure to equip any modern content creator with all they need for top-notch material!

Hypotenuse AI is an advanced AI writing tool that offers features such as automated headline generation, SEO optimization, and more. It can be used to create high-quality content quickly and easily without having to put in extra time or effort. What's more, Hypotenuse AI can be used to generate content in multiple languages. Artificial Intelligence in this tool is nothing short of a miracle, it can produce the most catchy meta titles and H2 headings for the blog post. As for generating content, Hypotenuse AI provides very coherent and structured information. Its style resonates the most with me since articles give a very friendly but at the same time formal vibe. Hypotenuse AI has dozens of useful templates that can create everything from Amazon product descriptions to Linkedin posts.
Hypotenuse AI Pricing 
Free: 7-day trial
Starter: $15.00/month for up to 20,000 words
Growth: $59.00/month for up to 90,000 words, unlimited images, and plagiarism checks.
Save 17% with a yearly billing
Key features
Intuitive interface
Hypotenuse AI Content Rewrite tool (it is the best one I have tried so far 10 out of 10)
Batch Content Generator
Content Detective helps to research factual information for articles
Connects with WordPress and Shopify
Hypo Art

generates images with DallE-2 API

Hypo AI chat allows users to communicate in a similar format as a popular text-generative AI tool, ChatGPT.
HypoDoc can interact with PDF files and answer questions based on the document.
Hypotenuse AI is the best AI copywriting tool and it is priced very reasonably. I feel like it generates the most accurate articles.
You can use this referral link to get 15,000 words for free, which is approximately 5 articles.
Jasper has rapidly emerged as the leading AI writing software, boasting an extensive range of features and capabilities. This powerful tool analyzes seed words provided by the user, crafting content that seamlessly aligns with the desired subject matter and tone of voice. Capable of producing a 1,500-word article in mere seconds, Jasper is revolutionizing the content generation landscape. Jasper AI works best in combination with SurferSEO, an AI SEO tool that helps to rank content in search engines. Jasper AI starts at $49 per month, which is three times more expensive than Hypotenuse AI's starter plan. The selling point of Jasper is that it allows unlimited AI words.
Jasper AI Pricing
Creator: $49/month (browser extension included)

Teams: $125/month

Business: custom
Save 20% with yearly billing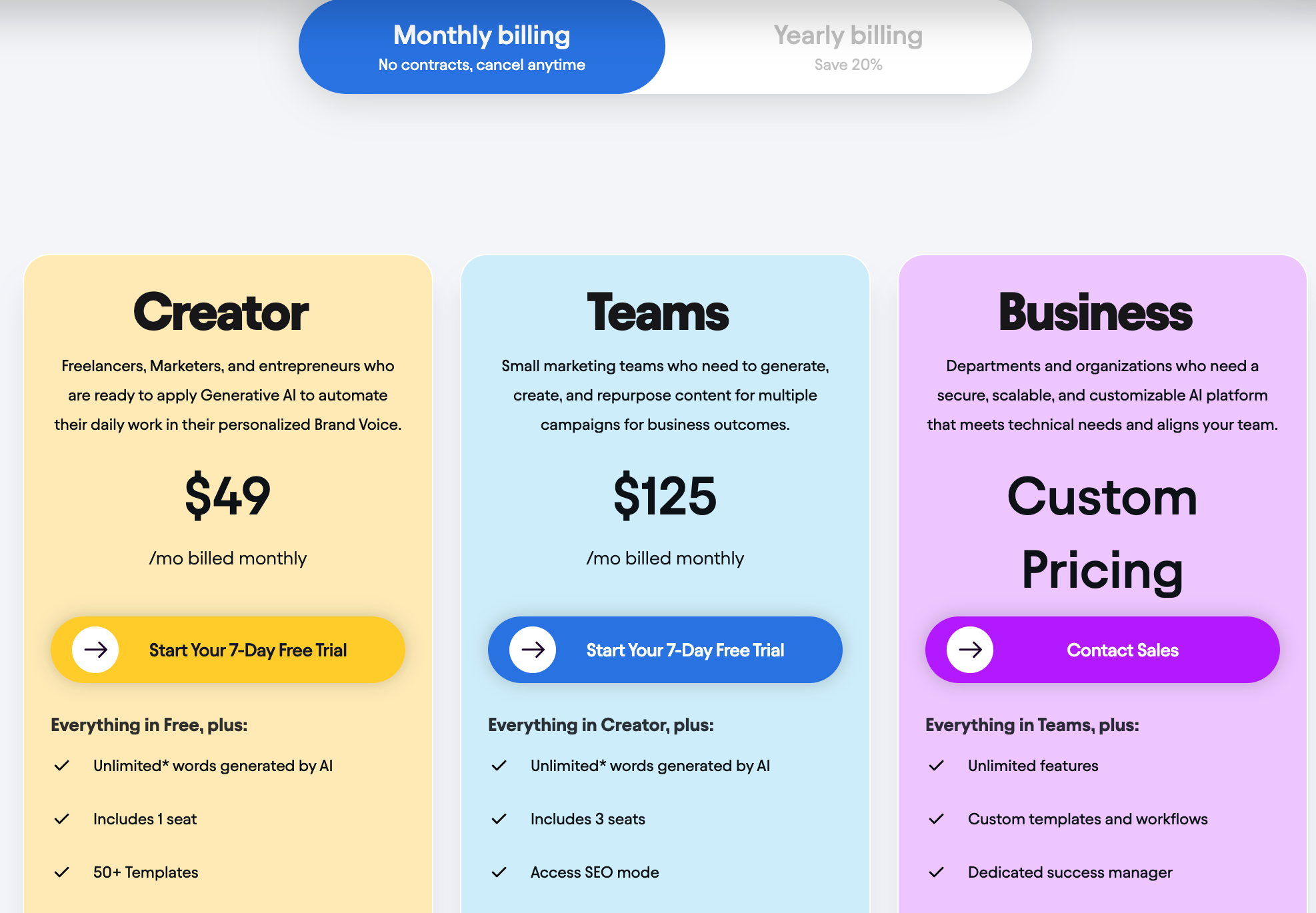 Key features
A vast library of free fonts and 2,500 writing style categories
Support for 30+ languages
An intuitive user interface (the templates section is a bit clunky)
Long-form content generation (1,000+ words)
Jasper AI art
Jasper Chat
Knowledge base to ensure consistency and brand awareness
Unlimited AI-generated words feature is especially useful for bigger projects
This AI-powered writing assistant can help you create top-notch content quickly and easily. With features like automated topic research, content optimization, and real-time analytics, you can create SEO-friendly content that will get your business noticed. And, with its advanced natural language processing technology, you can be sure that your content will stand out from the rest. But that's not all! Writesonic also offers a powerful plagiarism checker, AI-assisted editing and proofreading tools, and even the ability to write a 1500+ word blog post in just a couple of seconds. The biggest competitive advantage of Writesonic is the ability to analyze other articles using URLs.
And it doesn't stop there! Use Writesonic to generate Facebook or Google ads, Amazon product descriptions, website copies, emails, and more. It has the ability to analyze competitors and create full-fledged articles based on the search. Quite impressive. Writesonic is the most affordable option on the list and it offers unlimited AI words to boot.
Writesonic Pricing
Free: ChatGPT-4 and Brand voice are not supported
Unlimited: starts at $20.00 user/month
Business: starts at $19 user/month

Enterprise: Custom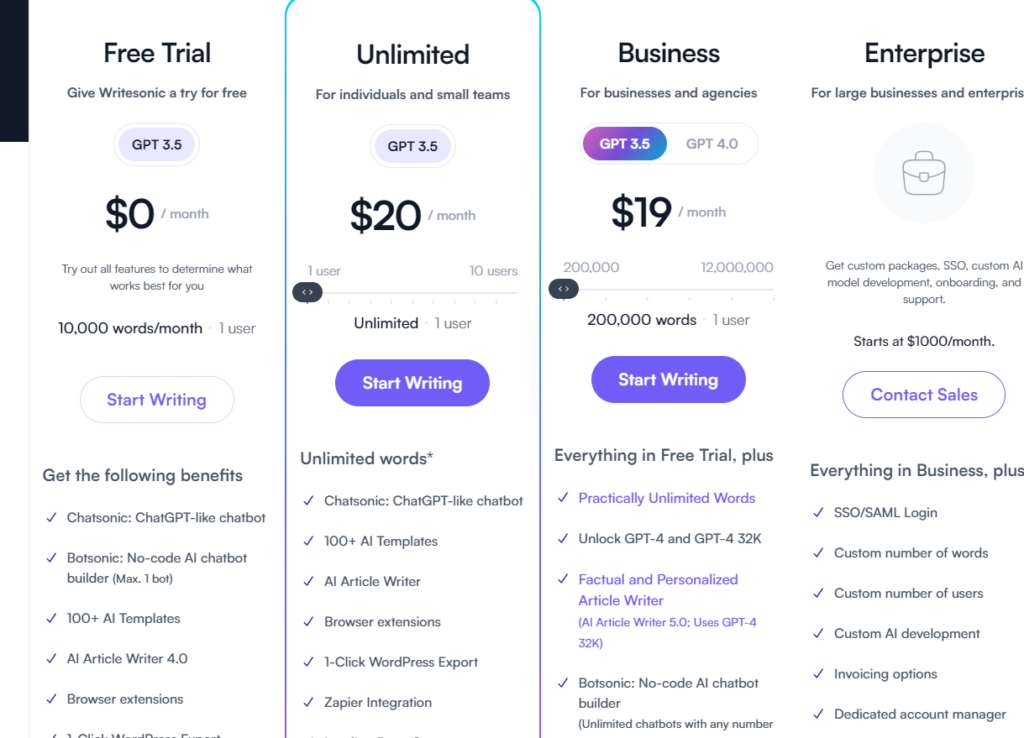 Key features
Unlimited Words
Supports 24 languages
Built-in grammar correction tool
Content Rewrite
Chatsonic, powered by ChatGPT-4, contains the latest facts on any topic
Botsonic AI chatbot centralizes all data on the website to train AI to give custom answers
Photosonic AI Image Generator
SurferSEO Integration gives SEO suggestions to improve your content and rank higher in search results
Scalenut is an AI-based writing tool that helps users produce content quickly and accurately. It comes with features such as a content editor, SEO optimizer, grammar checker, spellchecker, and natural language processing capabilities. The main benefit of Scalenut is its ability to automatically suggest ideas and help writers stay on track when creating content.
I would not say that Scalenut is the best copywriting assistant, instead, it is the best AI tool for on-page SEO that allows generating a cohesive blog post SEO-optimized by analyzing outlines, h1 and h2 heading of top-ranking pages, and adding FAQs to the page. Scalenut has many copywriting templates, but it is specifically designed to help bloggers rank first on Google. Scalenut is much more affordable than SurferSEO and MarketMuse, plus Scalenut offers free AI writing credits, 100,000 AI words per month for the basic plan. That is 2-3 times cheaper than most of its alternatives. You can get 10% OFF using the 'FIRST10' coupon.
Scalenut Pricing
Individual: $29.00/month for up to 100,000 AI words
Growth: $79.00/month for unlimited words and some useful features
Pro: $149.00/month for up to 2 users and a dedicated customer support

Save 40% with an annual billing
Key Features
Cruise Mode can generate articles in 5 minutes
Semrush Integration allows one to do a thorough keyword research
SEO

Optimizer Tool

Long-form content writer
Scalenut Chrome extension
Plagiarism checker and a Built-in grammar checker
Excellent

Customer support

100,000 AI words + SEO optimization is a fantastic deal
Are you tired of spending hours planning and creating marketing campaigns for your e-commerce company? Then you need to check out the Copysmith AI! This incredible tool is perfect for larger teams and projects, providing the most affordable pricing plans on the market. And here's the best part – with Copysmith's roll-over credits, you can save hundreds of dollars on e-commerce copywriting. Simply upload a spreadsheet of products or blog ideas, and let Copysmith generate content in bulk. From social media captions to product descriptions and more, this tool has you covered. In just a few minutes, you can create social media campaigns and ads for the entire year! With Copysmith AI, you can generate product descriptions, ads, social media posts, landing pages, and more – all organized under strategic campaigns for your brand.
Copysmith AI Pricing
Starter: $19.00/month for up to 20,000 words and 5 users

Pro: $59.00/month for up to 80,000 words and 10 users

Startup: $299.00/month for unlimited words and up to 20 users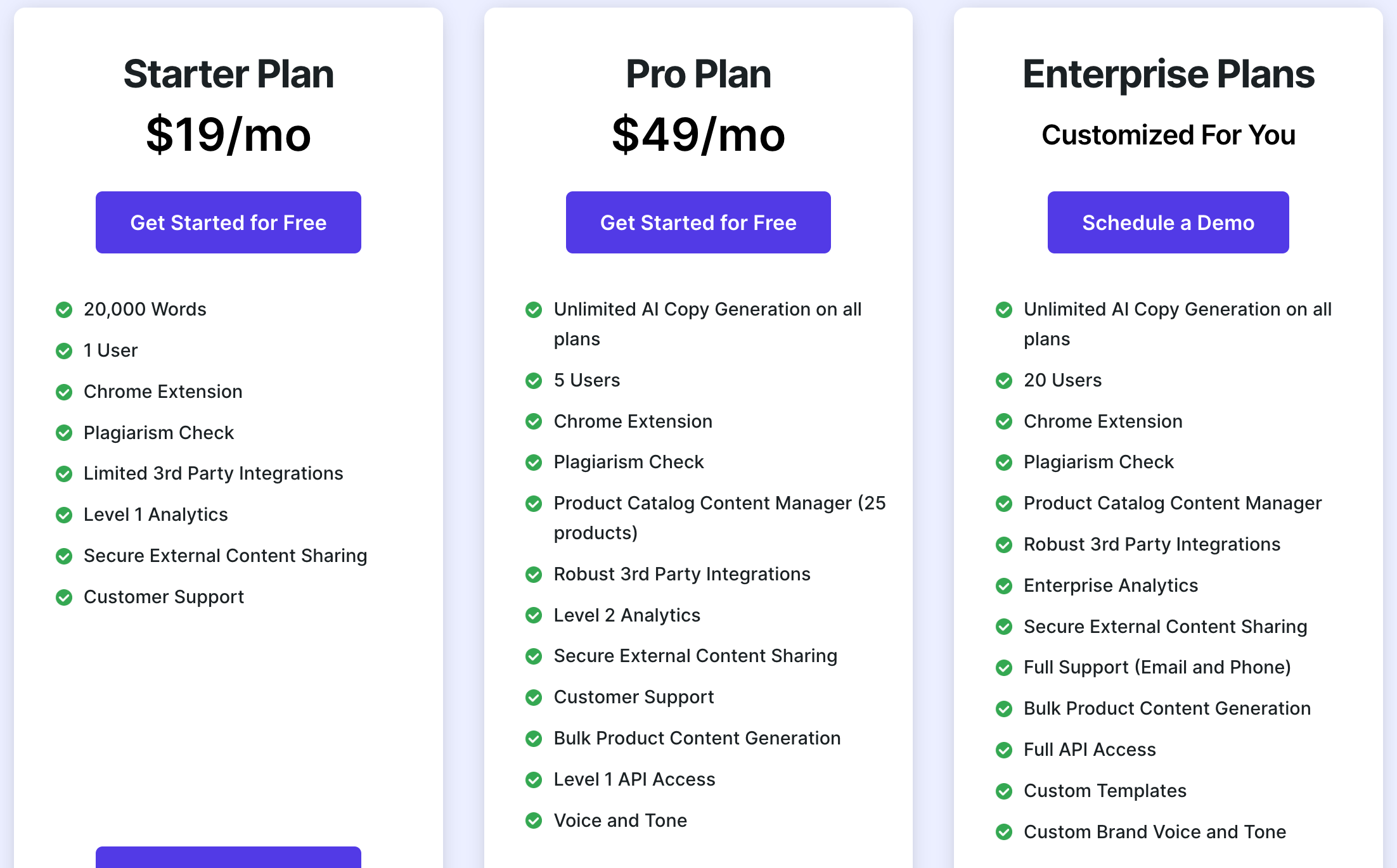 Key features
Bulk Generator
Campaign Builder
SEO optimization for product content
Plagiarism Checker is included in paid plans.
Roll-Over Credits with an annual plan
Centralized product data management

3rd Party integrations with Zapier, Shopify, WooCommerce, Amazon, etc.
This powerful tool boasts a wide range of features that include writing social media posts, blog posts, case studies, emails, website copy, and even love letters – all with just a few clicks. But that's not all! Copy AI also has a unique feature called Infobase, which allows you to store mission statements and other important company information for future reference. This feature sets it apart from other AI writing tools, as it enables the AI to extract data from itself and generate more personalized content.
What's more, Copy AI is incredibly user-friendly, even for beginners to AI writing. The dashboard is clean, organized, and easy to navigate. In comparison to confusing and overwhelming Jasper AI, Copy AI is a breath of fresh air.
The one limitation of Copy AI is the use of ChatGPT-3, meaning the information from public records may not always be up-to-date, but as long as you double-check the updates and know the prompts, you're good to go!
Copy AI Pricing
Free: up to 2,000 words/month
Pro: $59.00/month for unlimited words.
Key features
Intuitive interface
Infobase, is an internal storage that can be used to generate custom content
100+ Templates plus multiple copywriting frameworks
Freestyle Tool: allows you to give the AI any custom command
Blog Post Wizard helps to write

long-form content

in just a few clicks

No SEO integrations
Sudowrite is nothing short of a masterpiece, just take a look at its landing page. It is a unique tool tailored for creative writing projects such as short stories, novels, and screenplays. Designed to overcome common challenges faced by creative writers, Sudowrite offers a variety of features such as autocomplete functionality, generating up to 300 words and visualization of alternate plot points and character journeys.
Sudowrite Pricing
Hobby & Student: $19/month for up to 30,000 words

Professional: $29/month for 90,000 AI words

Max: $129/month for 300,000 AI words

Save up to %50 with a yearly billing
Rytr is a fascinating artificial intelligence writing tool designed to streamline the writing process for content creators. By utilizing Rytr, writers can quickly generate content that is engaging, comprehensive, and optimized for SEO. One of the most impressive features of Rytr is its ability to produce written content in multiple languages, including English (US), French, German, Spanish, Italian, and many more. By removing the obstacles associated with language barriers, Rytr empowers its users to create high-quality content for their target audience regardless of geographical location or language spoken.
One of the unique features of Rytr AI is its ability to learn and adapt to your writing style over time. As you use the tool, it will analyze your writing patterns and suggest improvements that can help you become a more effective writer. Rytr AI also offers a range of other features, including a plagiarism checker that can ensure your content is original and a content calendar that can help you plan and organize your content strategy.
Rytr Pricing: 
Free: up to 5,000 characters

Starter: $9.00/month for 50,000 characters and access to all features.

Unlimited: $29.00/month
Key features
More than 40 use cases and 20 tones
The interface is super minimalistic and easy to understand (no learning curve whatsoever)
Custom Use Cases
Built-In Plagiarism Checker
Semrush integration
Rytr extension available for Chrome
Rytr AI chat
AI image generator
Supports 35+ languages
😞 Things I did not like
Rewrite and Content Improve tool can be used in sections with only 30-300 characters
Rytr is expensive
Each of these AI writing tools provides a powerful set of features for businesses to create original and engaging content. With the right tool, they can ensure that their content looks professional and reaches its intended audience more effectively. The key is to find the one that fits your specific needs best. As you investigate each tool's capabilities, it will become clear which one is best for you and your content needs. With the help of AI writing tools, businesses can produce content that is both engaging and original.
Check out my other blog posts about the best AI tools for video editing, project management, graphic design, Chatgpt prompt engineering, and more.