Hey there, friend! I've got to tell you about this amazing tool called Canva! 🎉 It's seriously a game-changer for all your design needs, and I think you'll love it.
You know how creating graphics and social media posts can be a pain? Well, with Canva, it's a breeze! They have tons of cool templates and design elements that make everything so easy and fun. Trust me, you don't need to be a design expert to make eye-catching stuff!
What is Canva?
Canva is a popular graphic design tool that allows users to create professional-looking graphics and designs easily. With Canva, you can create various designs such as social media posts, marketing materials, presentations, and more. The platform is user-friendly, with a drag-and-drop interface that makes designing fun and intuitive. It also provides a library of fonts, colors, and graphics, allowing users to customize their designs to suit their needs.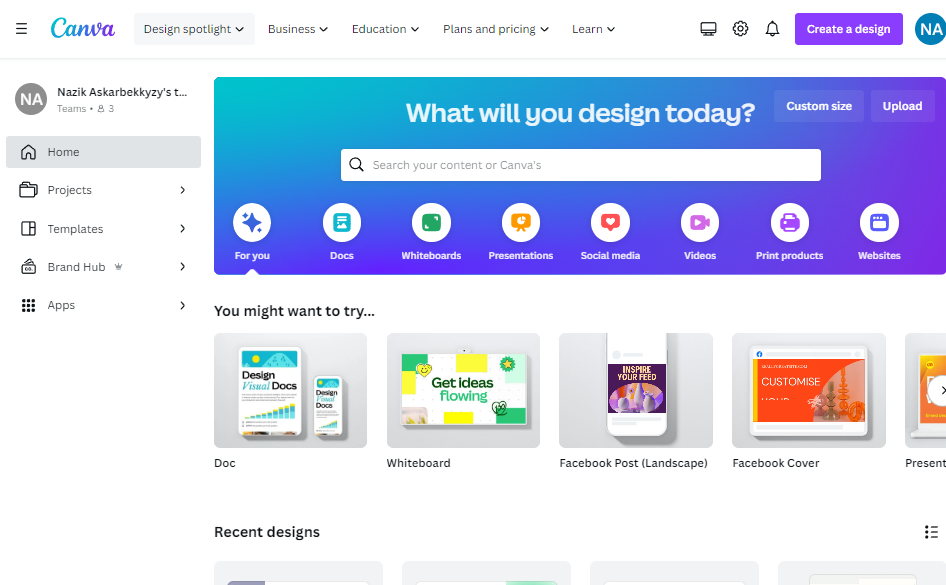 How much is Canva Pro?
The cost of Canva Pro is $12.00 per month, or users can opt for an annual subscription at $120, providing a cost-effective solution for those seeking advanced design capabilities. Canva provides users with the option to choose between a free and a paid version. Canva Pro includes benefits like a background remover tool, a content calendar for efficient planning, Beat Sync for syncing designs to music, a Brand Kit to maintain consistent branding, and a generous 1 TB of cloud storage to securely store files.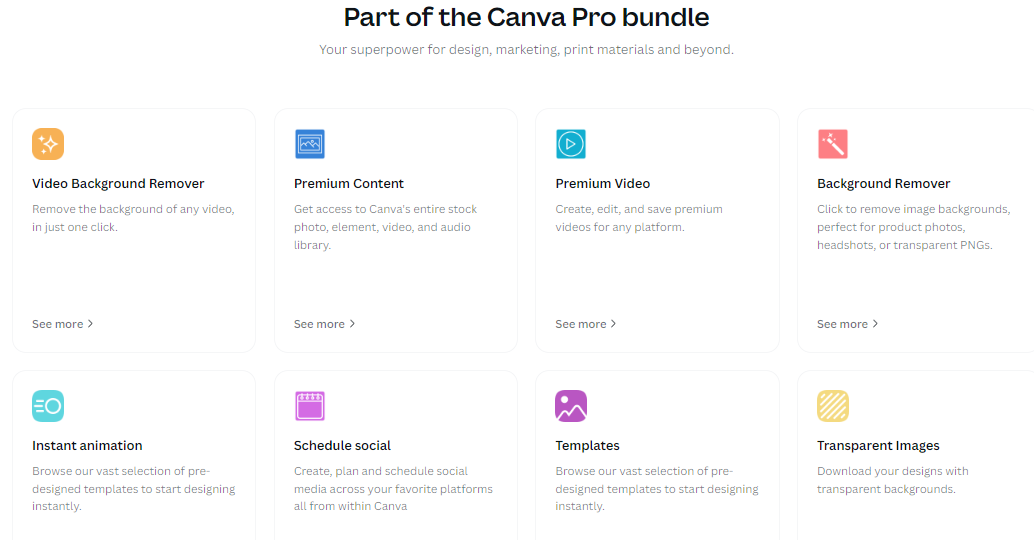 What Canva is Used for?
Social Media Marketing
Canva is an incredibly useful tool for social media marketing, offering a range of features that can help streamline your efforts. One key feature is the content calendar, which allows you to plan and organize your social media posts in advance. With the content calendar, you can ensure a consistent posting schedule, and it provides an overview of your planned content, making it easier to manage and track your social media activities.
Another valuable feature of Canva for social media marketing is the ability to schedule your posts. This means you can create and design your content in advance and schedule it to be published at specific dates and times. This feature is particularly helpful if you have a busy schedule or want to maintain a consistent online presence. By scheduling your posts, you can ensure regular updates without having to manually publish them at the exact moment.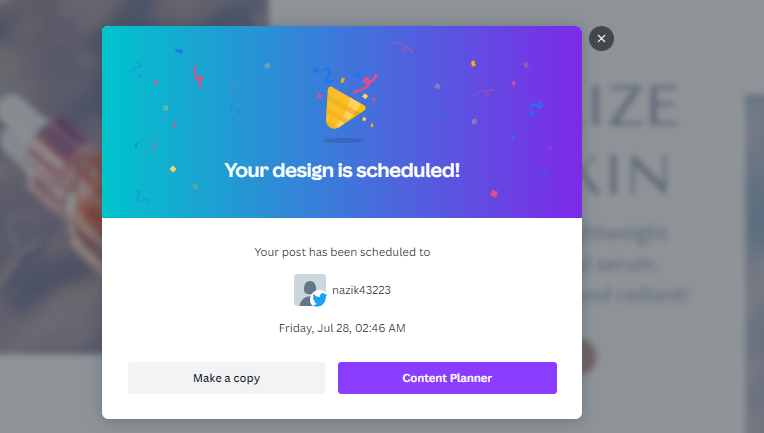 When it comes to different social media platforms, Canva supports a wide range of them. From Facebook and Instagram to Twitter and Pinterest, Canva provides design templates and editable graphics that are optimized for each platform. This makes it easy to create visually appealing and engaging content that is tailored to the specific requirements of each social media platform. Canva's flexibility in catering to multiple platforms enables you to develop a cohesive and visually appealing brand presence across various channels.
Now, let me share my personal favorite Canva use case for social media—creating YouTube videos. With Canva, you can customize video templates by adding captivating intros, transitions, and sounds, which you can save for future use. The vast library of fonts, stock videos, and images ensures you'll find exactly what you need for your video masterpiece.
But wait, it gets even better! Canva has a special AI integration with Soundraw, allowing you to craft a unique soundtrack for your video by selecting mood, instrument, and style. If you're a YouTuber, you know the struggle of finding the perfect copyright-free melody. Canva's AI-generated track can be used for commercial purposes without the risk of penalties. This innovation truly sets Canva apart, making it a must-have tool for content creators, bloggers, marketers, and YouTubers alike.
Brand Management
In order to maintain a consistent brand identity across various design projects, Canva offers a range of functionalities that can assist in brand management, including brand kit customization, template creation, and team collaboration.
One key aspect of brand management in Canva is the ability to create and customize a brand kit. Canva's brand kit feature allows you to define and save your brand's colors, fonts, and logos. By setting up your brand kit, you can ensure that all your designs adhere to your brand's visual identity. This consistency across different projects helps to strengthen brand recognition and establish a professional and cohesive look.
Canva also enables you to create custom templates that align with your brand guidelines. With the template creation feature, you can design templates for social media posts, presentations, brochures, and more. By creating and sharing these templates with your team or collaborators, you facilitate consistency and streamline the creation of branded content. This ensures that everyone involved in design projects can easily access and use on-brand designs.
Furthermore, Canva offers team collaboration features that support brand management efforts. With Canva's collaboration tools, you can easily share designs, gather feedback, and work together with team members or clients in real-time. This fosters effective communication and collaboration, ensuring that your team remains aligned with your brand's guidelines and maintains a cohesive visual identity in all design projects.
Business Resources
Canva is a versatile platform that is not only limited to graphic design but also provides features for creating business documents and websites. Here are some ways in which Canva can be used for creating various business documents and websites:
1. Resumes: Canva offers a wide range of resume templates that can be customized to create professional-looking resumes. You can easily edit the templates, choose different layouts, and add your own content to create a personalized resume that stands out.
2. Presentations: With Canva's AI-powered presentation feature, you can transform a simple document into a visually appealing and engaging presentation. You can add stylish slides, incorporate different design elements, and even include a voiceover for a more interactive experience.
3. Outlines and Brainstorming: Canva provides whiteboard templates that can be used for creating outlines and brainstorming sessions. You can collaborate with team members in real time and use the whiteboard tool to jot down ideas, create mind maps, or even design sitemaps for websites.
4. Tracking and Organizational Templates: Canva offers an extensive collection of templates for tracking goals, habits, creating income reports, shopping lists, and staying organized. You can choose from over 200 templates and customize them to fit your specific needs.
5. Website Creation: Canva allows you to create stunning websites such as landing pages and portfolios in just a few clicks. The platform offers a range of customizable website templates that can be easily edited. You can add your own content, images, and even use Canva's hosting service so that you don't need to purchase a separate domain.
Asset Management for e-commerce
Asset management is crucial for e-commerce businesses, and Canva offers a range of features to support this aspect. Here are some ways in which Canva can help with asset management for e-commerce:
Smart Mockups: Canva provides a feature called Smart Mockups that allows you to showcase your products in realistic settings. This feature is helpful for creating professional-looking product mockups that can be used for marketing materials, websites, and social media. With Canva's Smart Mockups, you can easily generate visually appealing representations of your products.
Product Photos for E-commerce: Canva offers powerful photo editing tools that can enhance the quality of your product photos. With features like cropping, resizing, and advanced editing options, Canva allows you to optimize your product images for e-commerce platforms. You can also add filters, adjust colors, and apply effects to make your product photos more visually appealing.

Integration with Bynder, SharePoint, and Brandfolder: Canva integrates with popular digital asset management platforms like Bynder, SharePoint, and Brandfolder. This integration allows you to store and organize your assets in a centralized location, making it easier to manage and access your e-commerce materials. By linking Canva with these platforms, you can streamline your asset management workflow and ensure that your digital assets are readily available whenever needed.
Printing
With Canva's print design templates and user-friendly design tools, you can easily create professional-looking printed materials across a variety of formats. Here are some examples of how Canva can assist with printing:
1. Business Cards: Create professional business cards using Canva's customizable templates. You can easily add your branding elements, such as logos, colors, and contact details, to create personalized business cards.
2. Flyers, Journals, Planners, Newsletters, Books: Canva provides templates for designing these printed materials. You can choose from a variety of layouts, font styles, and graphics to create eye-catching and informative materials for your business or personal use.
3. Envelopes for Direct Mail Campaigns: Canva allows you to design custom envelopes for direct mail campaigns. You can incorporate your company's branding, add logos or graphics, and customize the envelope size and layout to make a lasting impression on recipients.
4. Yard Signs, Brochures, and Calendars: Canva offers templates for creating promotional materials such as yard signs, brochures, and calendars. You can customize these templates with your own designs, images, and information to effectively advertise your business or events.
5. Water Bottles, Tote Bags, T-shirts, Hoodies: Canva enables you to design customized merchandise items like water bottles, tote bags, t-shirts, and hoodies. You can upload your own designs or choose from Canva's library of graphics and fonts to create unique and personalized merchandise for your brand or events.
Whether it's business cards, flyers, journals, or merchandising items, Canva provides the flexibility and customization options needed to bring your design ideas to life.
Latest AI features of Canva
Canva continues to evolve and integrate AI features, enhancing its design capabilities and empowering users with advanced tools. Here are some of the latest AI features in Canva:
Magic Design
Canva's Magic Design feature takes the hassle out of creating visually appealing designs. It analyzes your uploaded content, such as images, text, and logos, and generates design recommendations. These suggestions include layouts, color schemes, and font pairings that harmonize with your content, saving you time and effort in the design process. With Magic Design feature, you can easily create visually appealing designs aligned with your intended message or brand.
Magic Write
Canva's Magic Write feature provides various tools to help you improve your writing. It offers grammar and spelling suggestions, style recommendations, and content expansion ideas. Whether you're crafting a blog post, social media caption, or marketing copy, Canva's Magic Write feature can assist in refining your words and ensuring your message is clear and impactful.
Text-to-image generation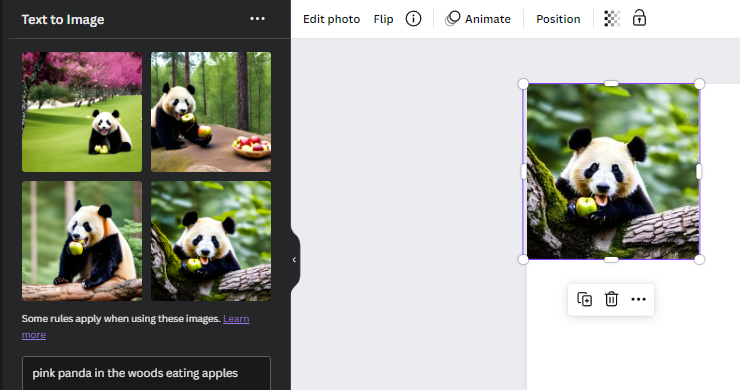 The text-to-Image feature allows you to transform the text into captivating visuals effortlessly. By selecting a design template and inputting your text, Canva generates beautiful graphics that bring your words to life. This feature is perfect for creating eye-catching social media posts, blog headers, quote designs, and more, all with just a few clicks.
These features in Canva leverage technology and design expertise to enhance your creative journey. Whether you're refining your writing, designing visuals, or transforming text into captivating images, Canva's Magic Write, Magic Design, and Text-to-Image features empower you to create appealing content with ease.
Final Thoughts on Canva
Canva is an amazing design platform that is unlike anything else on the market. It is a must-have tool for content creators, bloggers, marketers, and entrepreneurs. It offers a user-friendly interface and a wide range of features that make it easy to create stunning visuals and graphics. Whether you need to design social media posts, blog graphics, marketing materials, or branded content, Canva has everything you need to make your designs stand out. It's a game-changer for anyone who wants to create professional-looking visuals without any design experience. With a vast collection of templates and design elements at your disposal, your imagination is the only limit!