You've been using Zapier for a while now to automate parts of your workflow and boost productivity, but you're starting to feel limited by what it can do. Maybe you've outgrown the free plan but don't want to pay for an upgraded subscription. Or perhaps you're just looking for fresh alternatives with different features. Whatever the reason, it's time to check out some of the other options for connecting your apps and automating repetitive tasks. In this article, we'll explore five of the top Zapier competitors and how they compare on pricing, integrations, and functionality so you can find the right tool to take your workflow automation to the next level. Time to discover some new productivity hacks!
What Is Zapier and How Can It Help You?
Zapier is an automation tool that connects the apps you use every day and automates tasks between them. If you waste too much time manually copying and pasting info between apps, Zapier can help streamline your workflow.
Zapier works by creating "zaps" that are automated if/then statements between apps. For example, you can create a zap that says "if a new email comes into Gmail that contains an invoice, then automatically save it to Dropbox and add a row in an Airtable database." This zap would automatically save any invoice emails to Dropbox and log them in your Airtable database, saving you tons of time.
Some of the popular integrations Zapier offers include:
Gmail, Outlook, and other email services to automatically save attachments and log emails.
Google Sheets, Airtable, and other spreadsheet apps to instantly add rows of data.
Trello, Asana, and project management tools to automatically create cards and tasks.
Google Calendar, iCloud, and calendar apps to create events.
Slack, Teams, and messaging platforms to send alerts and notifications.
While Zapier is one of the most popular automation tools, there are other similar services like Pabbly Connect, IFTTT, Make, Bardeen, and Tray.io that provide comparable functionality. The choice comes down to which has the integrations and features that best fit your needs. Whichever tool you choose, automation is key to saving time and boosting productivity. Start building zaps and get ready to supercharge your workflow!
Make: No-Code Visual Workflow Builder
If you like Zapier but want something a bit more flexible, Make is a great option. This simple yet powerful tool lets you connect apps, automate tasks, and streamline your workflows without any code. 
Make integrates with over 1,500 apps and services like Gmail, Slack, Dropbox, and more. You can connect multiple apps together to automatically transfer data between them. For example, you can create an automation to save email attachments from Gmail to Dropbox or forward Slack messages to a project management tool like Asana or Trello.
With a simple drag-and-drop interface, you can set up integrations between your favorite apps in minutes. Connect Gmail and Trello to automatically move important emails to task lists. Link Slack and Twitter to post status updates. The possibilities are endless.
Make also provides pre-built "recipes" to help you get started. Choose from options like:
Post to Slack when a new Trello card is added
Create a Google Calendar event from a new Evernote note
Save emails from Outlook to Dropbox
Beyond the standard integrations, Make gives you full control over your automations with JavaScript. You can build custom logic, manipulate data between apps, and much more. Think of it as an easy-to-use tool with power user capabilities.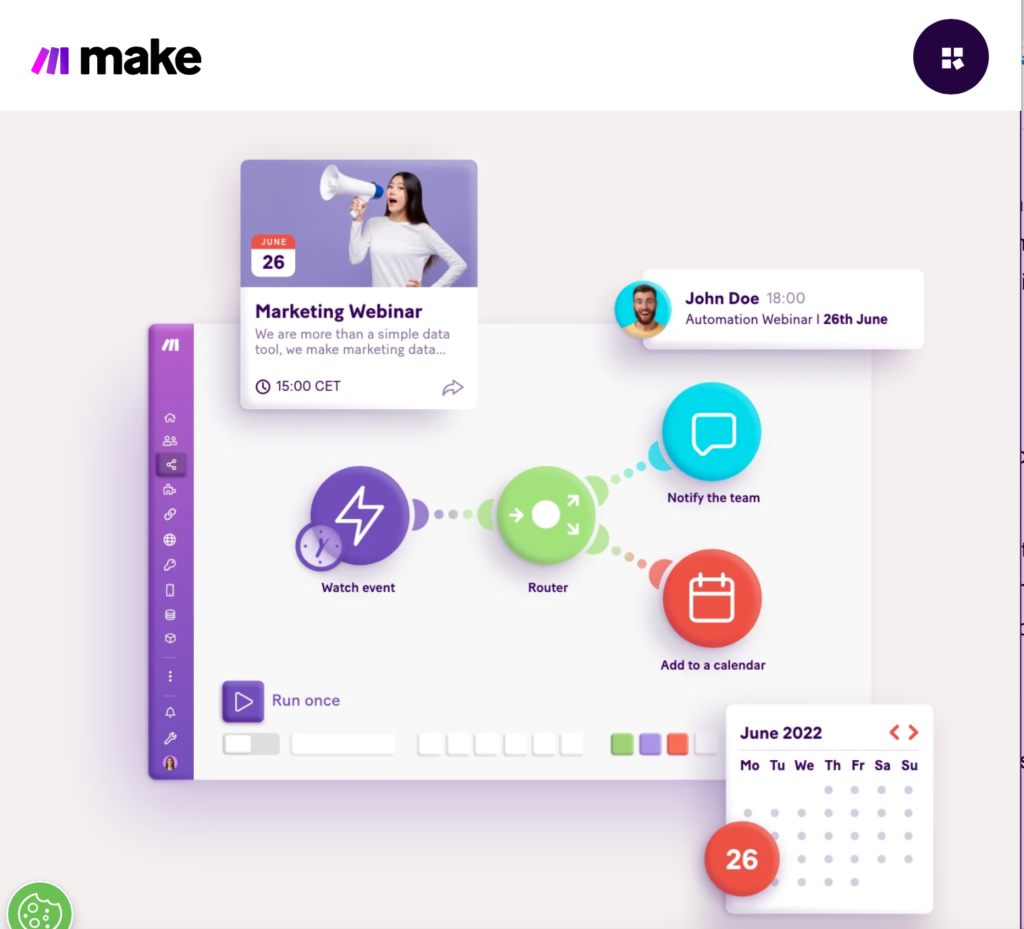 If you're looking for a robust workflow automation tool that's simple to set up but flexible enough to handle complex logics, Make is a perfect Zapier alternative. Give the free plan a try and start saving time by connecting your go-to business apps.
How much is Make?
Make offers a free plan for 1000 operations per month, which includes no-code visual workflow builder and access to 1000+ apps. There are 4 paid plans: Core, Pro, Teams, and Enterprise. Core starts at $9 for 10,000 operations per month. The great thing about Make is that you can have unlimited users in all the plans, making it one of the most affordable ai automation tools on the market.
Bardeen: Free Browser Extension For Productivity
Bardeen is an automation tool that helps connect your apps and services to streamline your workflow. It provides an intuitive drag-and-drop interface to build automations without any coding required.
Browser Extension
Bardeen has a significant advantage over Zapier with its seamless integration as a browser extension. Unlike Zapier, which makes users switch between windows or tabs, Bardeen operates right within the user's browser. This means you don't have to deal with the hassle of switching contexts, making your workflow much smoother.
Smart Suggestions
One standout feature of Bardeen is its ability to read the open tabs in your browser and create automation that's aware of your context. With just a simple click, Bardeen scans the open pages and extracts relevant information. This information can then be used in email drafts, Slack messages, Jira notifications, and more. It saves you valuable time and eliminates the need for manual data extraction across different platforms. No more switching contexts or dealing with too many software-as-a-service tools.
While not quite as large as Zapier's library of 1,500+ apps, Bardeen still supports over 50 major services, and approximately one new app is added each week. And with webhooks, you can connect literally any API.
Bardeen acts as an orchestration platform that seamlessly integrates multiple applications into a single workflow. This means Bardeen offers a wide range of possibilities for users. Whether you're using OpenAI's GPT-4 with Google Sheets to generate data tables, taking notes with Notion, managing projects with ClickUp, or researching keywords with Semrush SEO tool, Bardeen can help to automate all these processes and save 10 hours a week on average.
Privacy
Bardeen prioritizes privacy and cost-effectiveness in its infrastructure. Automations run locally on your device, which preserves data privacy and reduces reliance on external servers. Additionally, Bardeen continuously learns and improves its functionality through embedded AI technology. When you make edits to automation outputs, they are reviewed, resulting in real-time enhancements and optimal performance.
AI
While other market players are investing in expensive and time-consuming training of generative models for automation, Bardeen takes a different approach. It uses generative AI to build and suggest automation templates to users. The intuitive no-code builder allows you to easily customize these templates to fit your requirements. With just a simple click, the automation is triggered, providing a reliable and efficient solution for repetitive tasks.
Affordable Pricing
Bardeen is very affordable, with a free plan for basic playbooks and a pro plan starting at just $10/month for advanced features such as generative AI, premium integrations, and premium autobooks. They offer a 14-day free trial so you can test it out and see if it meets your needs before committing to a paid plan. For small teams and businesses, Bardeen is an easy, cost-effective way to start automating repetitive manual processes.
Compared to Zapier, Bardeen is more affordable, provides an intuitive visual builder, and offers robust analytics and logging for your automations. For simple or complex workflow automation, Bardeen is the ultimate ai automation tool that runs on the cloud and gives the most efficient, intuitive experience. If you are interested in Bardeen AI, you can learn more in Bardeen Beginner's Guide and Review blog post.
Pabbly Connect: One-time purchase
Pabbly Connect is a one-time purchase automation tool with no monthly fees. Once you pay the single upfront cost, you own it for life and can automate as many workflows as you need.
Easy to Use
Pabbly Connect has an intuitive drag-and-drop interface, so you don't need any coding experience to build complex automations. Just select triggers and actions, connect them together, and your workflow is ready to go. Some of the actions include:
Send Email
Make API call
Update Spreadsheet
Post to Social Media
You can also install pre-built templates to instantly automate common tasks like lead capture, newsletter subscriptions, customer support, and more.
Robust Integrations
Pabbly Connect syncs with many of the tools you already use, like Gmail, Slack, Google Sheets, Zendesk, and dozens more. New integrations are frequently added based on customer requests. Whether you want to automatically add email subscribers to a CRM, post helpdesk tickets to Slack, or update a Google Sheet with form responses, Pabbly Connect has you covered.
Scalable and Secure
While simple to get started with, Pabbly Connect can also handle the automation needs of large companies and teams. Role-based access controls allow you to control which users can view or edit which workflows. All data is encrypted in transit and at rest, and Pabbly Connect is HIPAA compliant for working with sensitive data.
For a single upfront payment, Pabbly Connect packs a powerful punch. If you're looking to eliminate tedious manual tasks and free up your time to focus on more important work, Pabbly Connect is an automation tool worth considering as an alternative to Zapier.
IFTTT: Connect All Your Apps and Devices
IFTTT stands for "If This Then That" and is a free tool to help you automate tasks between your favorite apps and devices. IFTTT has hundreds of applets that connect 800+ services like Gmail, Twitter, Nest, and more.
To get started, browse the available applets to find ones that would be useful for your workflow. For example, you can create an applet that sends you an SMS text message whenever someone tweets at you or posts on your Facebook wall. Or have your Nest thermostat automatically turn on when you get close to home according to your phone's GPS.
Some other useful applets include:
Posting your Instagram photos to Twitter automatically.
Getting an email notification whenever the weather forecast changes.
Having Google Assistant add events to your Google Calendar.
Receiving a daily digest email with your key metrics and stats.
While IFTTT may not be quite as robust as Zapier for complex workflows, its simplicity and pre-made applets make it an easy way to connect your apps and smart devices without needing any technical skills. And if you want to create your own custom applets, IFTTT's interface is very intuitive.
How much is IFTTT?
IFTTT offer a forever free plan for 2 applets and unlimited Applet runs. Pro plan costs $2.5/mo for 20 faster and better applets. Pro plus starts at $5/mo for unlimited applets, developer tools, and AI services.
Tray io:
Tray.io is another powerful automation tool that can help streamline your workflows. Some of its key features include:
Visual workflow builder. Tray.io lets you create workflows using a simple drag-and-drop interface. No coding required. You can connect hundreds of apps and instantly see how your data flows between them.
Large app integration library
Tray.io supports over 260 business apps including Slack, Dropbox, GitHub, and more. So you'll have plenty of options to choose from when building your automations.
Monitoring and alerts. Tray.io allows you to monitor your workflows and will notify you if there are any errors. You can also set up custom alerts based on events within your workflows.
Enterprise-grade security. Tray.io undergoes regular security audits and is certified SOC 2 compliant. It uses encryption to protect your data and credentials at every stage of a workflow.
Tray.io is trusted by It giants such as Github, Udemy, Typeform and others. It provides excellent customer support and training. Overall, Tray.io is a user-friendly automation tool with a robust set of features to help streamline complex business processes. If you're looking for an ultimate way to integrate your apps and automate workflows without needing to code, Tray.io is worth considering as an alternative to Zapier.
FAQs
If you have any other questions about Zapier and automation, here are some common FAQs:
Do I need to know how to code to use Zapier?
No, Zapier is designed to be used by non-technical users. You don't need any coding experience to build Zaps and automate your workflows. Zapier offers a simple drag-and-drop editor to connect apps and define actions.
How much does Zapier cost?
Zapier offers a free plan for up to 5 Zaps and 100 tasks per month. Paid plans start at $20/month and offer more Zaps, tasks, and advanced features like multi-step Zaps. Zapier also offers discounts for nonprofits, educators, and teams.
What apps does Zapier integrate with?
Zapier integrates with over 2,000 popular business apps like Gmail, Slack, QuickBooks, Trello, and Google Sheets. No matter what apps you use, Zapier likely supports them. Zapier is always adding new apps and continues to expand its integrations.
How secure is Zapier?
Zapier takes security very seriously and is SOC 2 Type 2 compliant. All data is encrypted in transit and at rest. Zapier will never store your login credentials or account access tokens. Only you control which accounts and data you connect. Zapier also offers IP whitelisting, two-factor authentication, and audit logs for added security.
Do Zaps run automatically?
Yes, once you build a Zap it will run automatically according to the trigger and schedule you define. For example, a Zap triggered by new emails will run whenever you receive a new email. A scheduled Zap will run on the routine you specify, like every day or week. You can also manually run Zaps on-demand at any time. Zaps continue to run automatically in the background even when you're offline.
Conclusion
So there you have it—five solid alternatives to Zapier to help automate your workflow and boost your productivity. While Zapier is a powerful tool, these options give you more flexibility and customization for connecting the apps and services you rely on every day. Whether you prefer an intuitive drag and drop interface, open source platform or simple automations between just a few key tools, one of these Zapier competitors is sure to be a great fit for your needs. Give a few a try and see which one clicks with your workflow and budget. Before you know it, you'll be automating routine tasks and getting back to the important work.